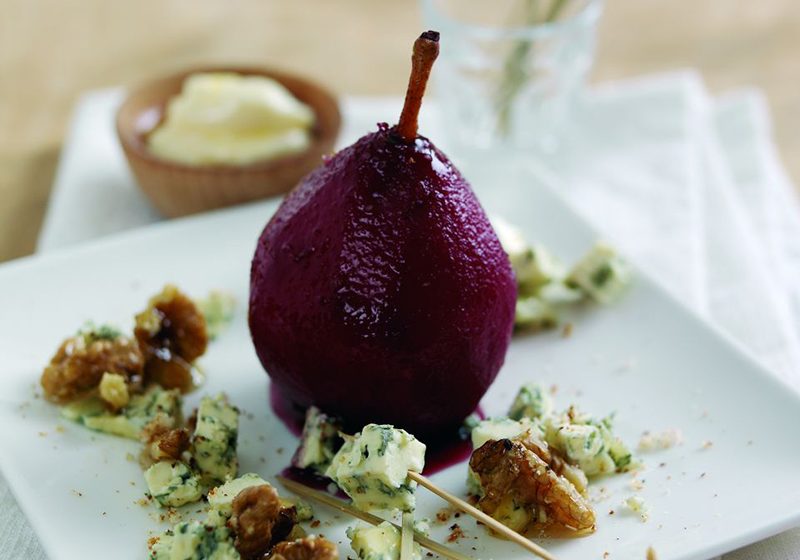 Ingredients
A couple of thick slices of fruit bread
50g of Blue Monday Cheese or Bleu d'Auvergne (diced)
1 pear (Heritage are preferable)
5‐6 small leaves of endive (optional)
200ml of a good quality red wine
50g white sugar
4 walnuts
1tsp honey
How to make it
Preparation time: 10 minutes
Cooking time: Approx 20 minutes Serves 1
Peel the pear and poach in the red wine and sugar mix. Once cooked, leave to one side and cool. Reduce the remaining poaching syrup for decoration. Cut the fruit bread into large croutons and dry out in the oven, until nicely toasted. Glaze the roasted walnuts with the honey. To finish the dish, place the pear on the plate and sprinkle with some of the fruit bread crumb, place in the middle of the plate. Crumble the Bleu d'Auvergne, fruit toast croutons, and walnuts around the pear. Place the baby endive leaves around the pear and add a small amount of the leftover reduction.
Serve as either a starter or as a dessert, this recipe would be lovely as either.
This recipe was created by Allan Pickett, the Regional winner of the Vive le Cheese competition in London. Allan Pickett is head chef at Plateau restaurant in London.