Chicken, Spinach and Brie Filo Pastry Bites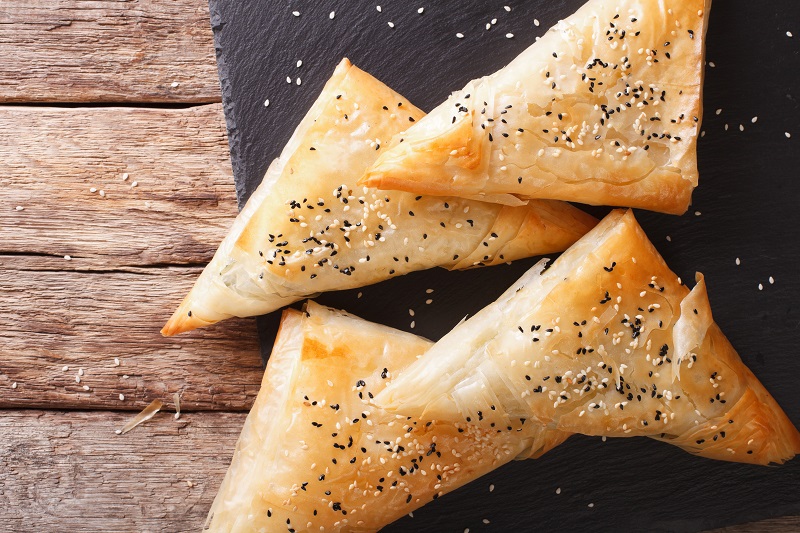 Ingredients
Makes approx 14
270g filo pastry sheet
200g butter, melted
25og spinach
200g Brie de Meaux AOC
350g shredded, cooked chicken
25g black or white sesame seeds
How to make it
What could be more delicious and inviting than a warm and gooey cheese pastry? These Brie filo pastry bites look incredible and taste sensational, especially when you use Brie de Meaux AOC for a truly authentic taste.
Preparation:
Melt the butter in a microwave, 20-30 seconds or until the butter has melted
For the chicken, if you are using chicken from left overs ensure it is shredded
For the spinach, fill a saucepan with 2 inches of water and fit with a steamer and lid
Add the spinach and bring the water to the boil. Simmer until spinach has wilted
Drain, then place in a clean tea towel. Squeeze out all excess liquid
Ensure the Brie de Meaux AOC is straight out of the fridge, cut into approx 12.5g pieces (This is 16 pieces of a 200g wedge, so you can cut relatively evenly).
Creating the bites:
Preheat your oven to 200°C/180°C fan/Gas 6
Ensure your filo pastry is room temperature and unfolds easily – to keep it moist whilst working with it you can wrap it in a damp cloth
Take a filo pastry sheet and lay it out horizontally
Brush the whole layer using the melted butter
place another sheet over the top of the first
Cut a line across the middle horizontally, giving you two parallel strips
in the top left corner of the first strip, place a handful of chicken, then a spoon of spinach, then a slice of brie. Be careful not to overfill
Brush a diagonal edge with the melted butter – this is where you're going to fold
Fold the top corner over so that it makes a triangle with the filling contained inside
Press down to secure
brush another line of melted butter, this time on the vertical edge, then fold again
Continue folding until all the edges are sealed
Trim off any excess pastry
Brush the whole parcel top with butter and sprinkle the sesame seeds over the top
Bake for around 10-15 minutes, until they are golden brown and crispy