Traditional Cheese Lasagne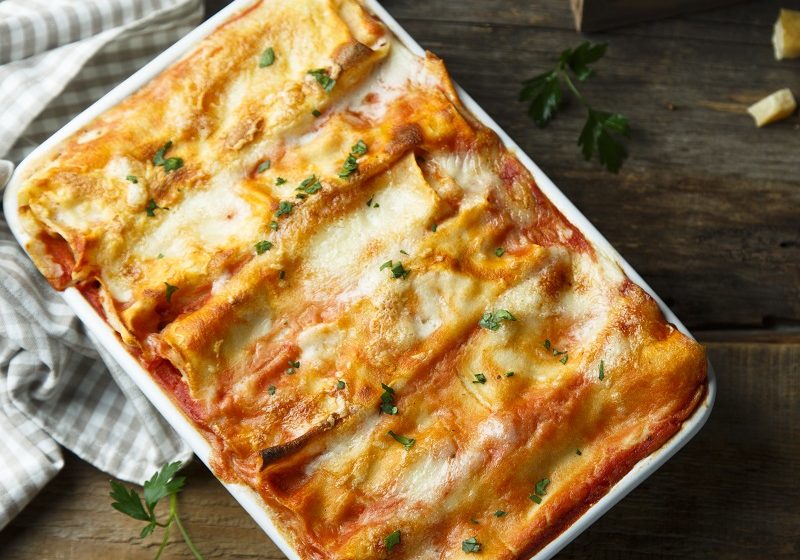 Ingredients
Serves 6
2 tbsp olive oil, plus a little for the dish
750g lean beef mince
90g pack prosciutto
800g passata
200ml hot beef stock
a little grated nutmeg
300g pack fresh lasagne sheets
500ml whole milk
1 onion, halved
1 bay leaf
2 cloves
50g butter
50g plain flour
How to make it
Traditional cheese lasagne is a classic mid-week dinner that can be frozen and reheated for easy access when you're busy. A tasty cheddar such as Wookey Hole Cave Aged Cheddar. will add depth of flavour.
Begin with the meat sauce. Heat 2 tbsp olive oil in a frying pan and cook 750g lean beef mince in two batches for about 10 mins until browned all over.
Finely chop 4 slices of prosciutto from a 90g pack, then stir through the meat mixture.
Pour over 800g passata and 200ml hot beef stock. Add a little grated nutmeg, then season.
Bring up to the boil, then simmer for 30 mins until the sauce looks rich.
Make the white sauce by gently bringing 500ml whole milk to the boil in a small saucepan.
Add 1 halved onion, studded with 1 bay leaf and 2 cloves.
Turn off the heat and leave to infuse for 20 mins.
Melt 50g butter in another saucepan, then add 50g plain flour.
Stir continuously until a roux forms.
Remove the onion, bay and cloves from the milk with a slotted spoon and discard.
Add the infused milk to the roux gradually, stirring as you go, until you get a smooth sauce.
Add 100g of grated Wookey Hole Cave Aged Cheddar.
Cook for 5-10 mins, stirring continuously, until the sauce has thickened. Season to taste.
Heat oven to 180C/fan/160C/gas 4 and lightly oil an ovenproof dish (about 30 x 20cm).
Spoon one third of the meat sauce into the dish, then cover with some fresh lasagne sheets.
Drizzle over roughly 130g  of the white sauce.
Repeat until you have 3 layers of pasta.
Cover with the remaining 390g white sauce, making sure you can't see any pasta poking through.
Scatter 100g of the cheddar over the top.
Arrange the rest of the prosciutto on top.
Bake for 45 mins until the top is bubbling and lightly browned.
Serve this traditional cheese lasagne with a green salad and garlic bread.