Cheese and Ham Pasties by Marcus Wareing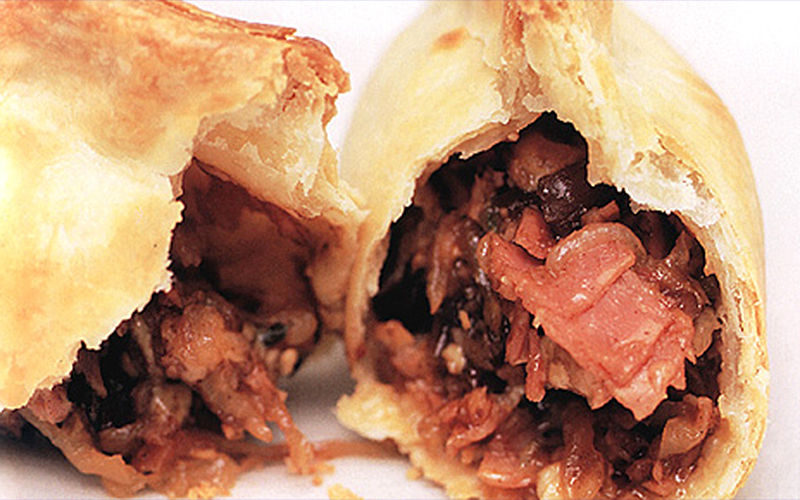 Ingredients
(Makes 5)
25g unsalted butter
2 onions, sliced
Leaves picked from a small bunch of fresh thyme
100g Westcombe Cheddar (or similar), grated
150g sliced cooked ham, cut into small pieces
2tbsp Real Ale Chutney (or similar)
Sea salty and freshly milled black pepper
For the pastry:
100g cold unsalted butter, diced
225g plain white flour
1 medium organic egg, beaten
A little milk
How to make it
Cheese and ham pasties are the kind of treat we all need, whether at lunch or at picnics or parties. We recommend using mature and tangy Westcombe Cheddar.
First the pastry: rub the butter into the flour with your fingertips until the mixture resembles breadcrumbs. Add the egg and mix well, then mix in just enough milk to make firm dough. Wrap in cling film and leave to rest in the fridge while you prepare the filling.
Melt the butter in a moderately hot pan. Add the onions and thyme and cook, stirring regularly, until the onions break down and turn a golden colour. This should take about 20 minutes. Season well then leave to cool.
Divide the pastry into five equal pieces and roll out each piece into a 15cm disc. Stack the discs between non-stick baking parchment and keep in the fridge until you're ready to use them.
Heat the oven to 180 ºC fan (200 ºC/ gas 6). Line a baking tray with non-stick parchment.
Mix the Westcombe Cheddar, ham and chutney into the cooled onions. Lay the pastry discs out and divide the filling equally among them, spreading it in an even layer and leaving a border clear around the edge. Brush the edge of each disc with milk, then fold over and press to seal.
Sit the pasties up on the baking tray so the seams are running down the centre. Neatly flute the seams, then brush the pasties all over with milk. Bake for 15 minutes until golden. Serve hot or cold.
Cheese and Ham Pasties Recipe courtesy of 'One Perfect Ingredient' by Marcus Wareing published by Dorling Kindersley.