Glazed Pork with Wensleydale Cheese and Mustard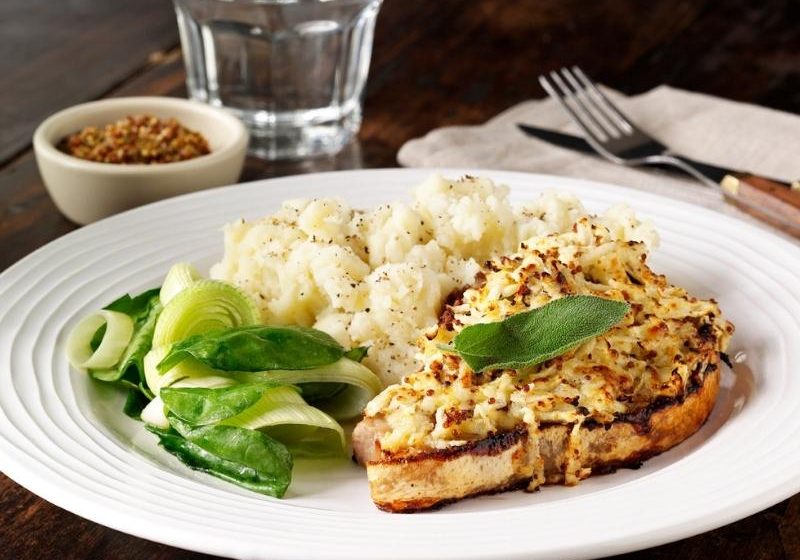 How to make it
Pork and Wensleydale Cheese are often paired in recipes, perhaps it's that both work so well with apple, or that lots of UK pork farms are from similar areas to Wensleydale production.  The cheese is creamy and full of flavour, mixed in with shredded apple it's the ideal topping for pork chops.
Grill the pork chops under a hot grill for 4-5 mins.
Turn over, coat with 1 tsp Original Wiltshire Mustard and cook for a further 3-4 mins.
While they are cooking, grate the apple and the Cheshire cheese.
Mix together with the remaining Original Wiltshire Mustard and chopped sage.
Pack onto the chops and cook under the grill for another 1-2 mins until melting and golden.
Serve with mash, leeks and spinach.
Pork and Wensleydale Cheese Recipe courtesy of Tracklements.
Other pork recipe ideas:
These cheese stuffed pork chops uses Golden Cenarth, giving you an oozy, creamy filling that hints at hazelnut. Serve with mashed potatoes and steamed broccoli for an excellent weeknight dinner.
Pork loin is one of the easiest cuts of meat to cook for dinner as it is juicy and tender. This recipe uses Berkswell for its sweet and dryish taste.
The strong tanginess of the Pecorino compliments the sweetness of the courgette and tenderness of the pork. A tasty dinner that makes full use of the most delicious parts of the courgettes.