Pork and Pecorino stuffed Courgettes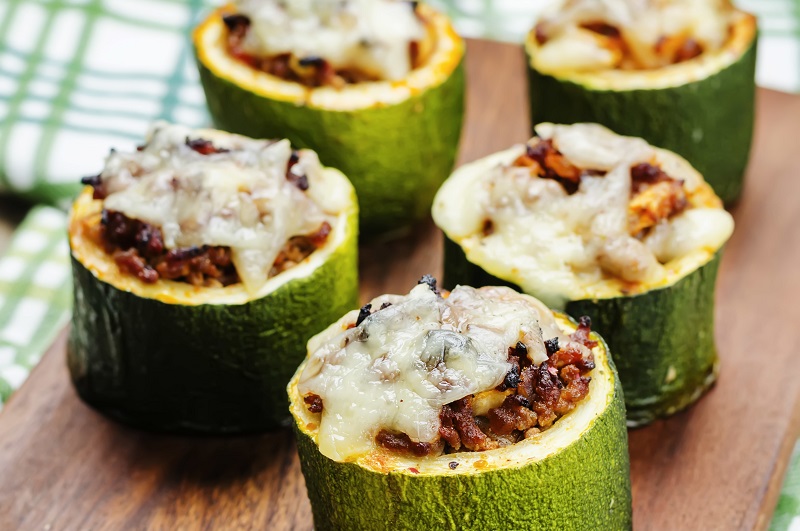 Ingredients
2 courgettes
5 garlic cloves
1 large onion, diced
500g pork mince
4 tbsp tomato purée
400g chopped tomatoes
2 eggs, beaten
125g Pecorino cheese
Thyme (to taste)
Parsley (to taste)
Salt & Pepper
How to make it
The strong tanginess of the Pecorino compliments the sweetness of the courgette and tenderness of the pork. A tasty dinner that makes full use of the tastiest parts of the courgettes.
Preheat the oven to 180°C Fan / 350°F / Gas Mark 6
Cut the head and tail off the courgettes and scoop out the seeds, then discard.
Continue to scoop out the flesh so you're left with around 1 cm ring inside the skin. Keep this flesh for later
Fry the onion and garlic until soft and browning
Add the mince until browned
Add the tomato purée
Stir in the chopped tomatoes and flesh from the courgettes
Add the parsley and thyme and cook everything for around 10 minutes
Grate the Pecorino
Take the mixture off the heat and once cooled, mix in the eggs and most of the cheese
Cook on a low heat for 5 minutes
Season to taste
Fill the courgettes with the meat mixture and place on a baking tray
Bake for about 35-40 minutes until the meat is golden and crisp
Remove and slice into rounds around 1-2 inches each
Place on their sides and lightly sprinkle the remaining cheese over the top of the courgettes
Grill for 5 minutes until cheese is melted
An option is to slice a potato into 1 cm discs and adding to the tray when baking. Serve the pork and Pecorino with some steamed green vegetables for a fabulous family meal.