Garlic and Blue Cheese Beer Bread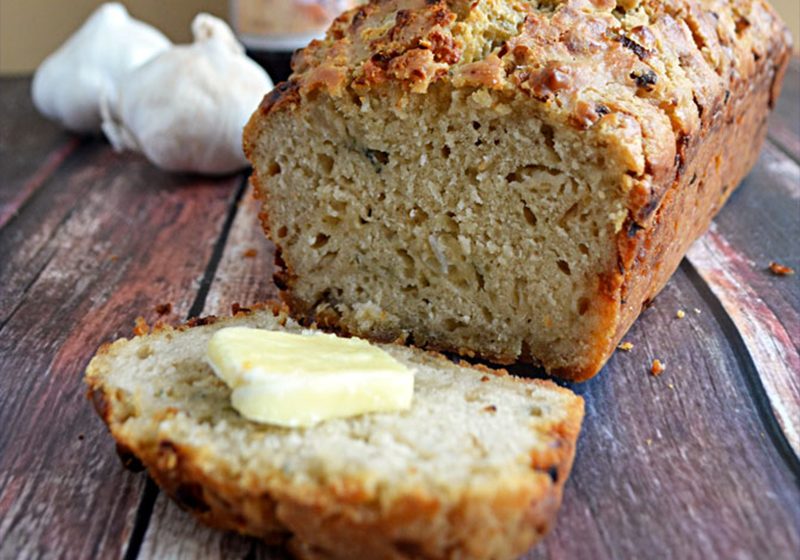 Ingredients
1 tablespoon oil
1 small onion, finely chopped
Freshly ground black pepper
2 minced cloves garlic
13.5 oz all purpose flour
3 tablespoons sugar
2 teaspoons baking powder
1 teaspoon salt
225gms blue cheese crumbles – we recommend Cropwell Bishop Stilton, or Blue Monday)
12 oz lager
cooking spray
2 tablespoons butter, melted
How to make it
This Garlic and Blue Cheese Beer Bread was one of the most popular recipes we've shared, and so Hoast The Toast kindly agreed to let us feature the recipe here on our site. For the full recipe with detailed instructions, please visit Hoast The Toast. Here's a brief synopsis:
Preheat the oven to 170° C / 190° C (with/without fan). In a pan, heat the oil over medium-low heat and add the onions, until brown. Season with black pepper and add the garlic. Cook for a minute, then remove from heat. Whisk the flour, baking powder, sugar and salt together until well-combined. In the centre of the mixture create a well to add the onion, garlic, blue cheese (we recommend Cropwell Bishop Stilton, or Blue Monday), and lager. Stir until the mixture becomes moist. Using a 9 x 5 inch tin, spray with oil and pour in the batter. Drizzle half the butter over the batter and bake for half an hour, then pour over the remaining butter. Bake until the Blue Cheese Beer Bread turns golden brown.
(Image & Recipe courtesy of the Hoast The Toast)
Other bread recipes…
The pungent savoury and nutty flavour of Golden Cenarth combined with garlic and kicks of mustard-induced tang makes this dish a delectable superstar.
There ain't no party bread like a Pong Party Bread! The perfect centre piece to a feast, where all your friends can dig in and pull a piece off. This is our Pong version as it uses the pungent and spicy Epoisses de Bourgogne AOC.