Pine Nut, Pear and Blue Cheese Salad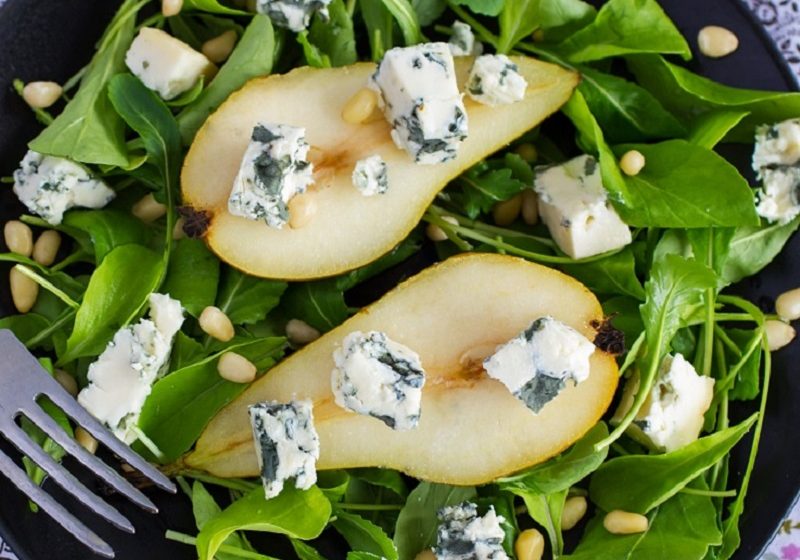 Ingredients
150g Bleu d'Auvergne
Approx 200g salad leaves, ideally watercress and rocket
2 pears – ideally Conference or Concorde
Pine nuts
For the dressing:
2tbsp balsamic vinegar
2tbsp walnut oil
3tbsp olive oil
1 peeled garlic clove
1/2 tsp sea salt
1tsp English mustard powder
pepper
How to make it
Pear and Blue Cheese Salad is a fabulous and easy starter idea. The trick to making this salad really come to life is to use a blue cheese that delivers a strong flavour hit, and Bleu d'Auvergne does just that.
Heat a frying pan and lightly toast the pine nuts (no oil needed) until they begin to turn golden brown. Put aside.
Combine the vinegar and oils in a bowl.
Using a pestle and mortar, crush the garlic then add the salt until it's creamy. Work the mustard powder in until it becomes a paste. Add to the vinegar and oil combination and whisk.
Half the pears (peel, if you wish) and brush with a little of the dressing.
Wash the salad leaves then place into a large salad bowl.
Toss the Pear and Blue Cheese Salad with crumbled Bleu d'Auvergne, toasted pine nuts and the dressing. Serve.
Other salad recipes:
Alex James Goats' cheese is particularly fresh and delicate. It has a natural acidity and an almost mousse-like texture. We love it on a french stick with a simple salad.
If there's a better combination than Goat's cheese, beetroot and walnut we're yet to find it.
Try this delicious salad of warm fine green beans and tiny new potatoes with chunks of wonderful organic Bath Soft Cheese as a starter, light lunch or healthy supper.