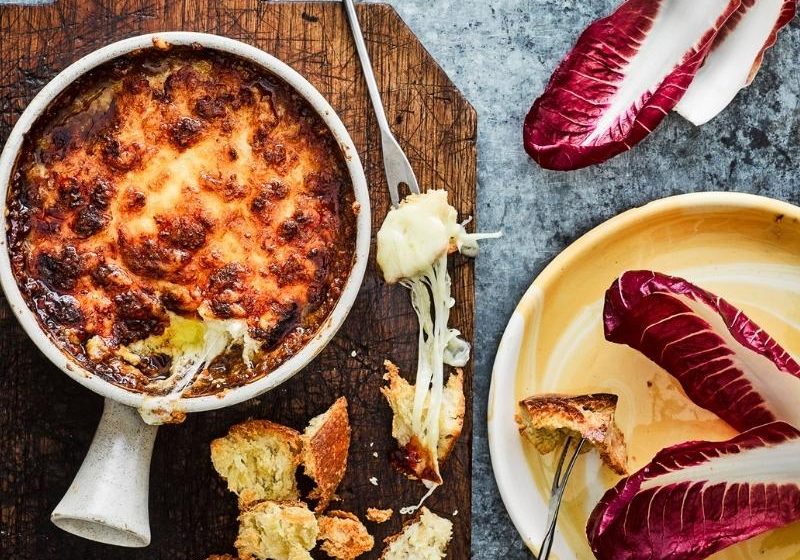 How to make it
You could not pack more cheese into a recipe if you tried. This gooey cheese fondue pot mixes a creamy cheese with hard cheeses, and then you sprinkle cheese on top. The protagonist is the sweet onion marmalade that you lay at the bottom of the ramekin, accenting every wonderful bite.
Pre-heat the oven to 160°C/325°F/Gas Mark 3.
Mix together the hard cheeses.
Add the soft cheese, milk, flour and pepper and mix with a spoon.
Spoon the Onion Marmalade into an oven-proof dish (12-15cm diameter) and spread out evenly.
Top with the cheese mixture.
Bake in the oven for 25 mins or until the cheese starts to bubble. Top with the Parmesan or Cheddar if using and put under a medium-high grill until it turns golden.
Serve with hunks of crusty bread or radicchio/chicory leaves for dipping.
The Cheese Fondue Pot will work with different cheeses from a good cheddar to a creamy blue.
Recipe courtesy of Tracklements
Similar recipes:
Valley Brie Tartlets combine a silky soft and lemony cheese with bright and fruity Cranberry sauce that tingles on your tongue.
Smoked Lincolnshire Poacher Soufflés not only look the business, but the cheese has an earthy and powerful taste that is nuttier than a mature cheddar with overtones of an aged alpine cheese. It takes this classic dish to a whole new level.
When you need a sophisticated lunch option look no further than our Potted Salmon and Finn Triple Cream. It's ideal for creating little party canapes or to spread on a slice of toast, it'll even work as a sandwich filler. It's decadent and rich so one little pot should serve about 6-8 people.