Mushroom Linguine with Stinking Bishop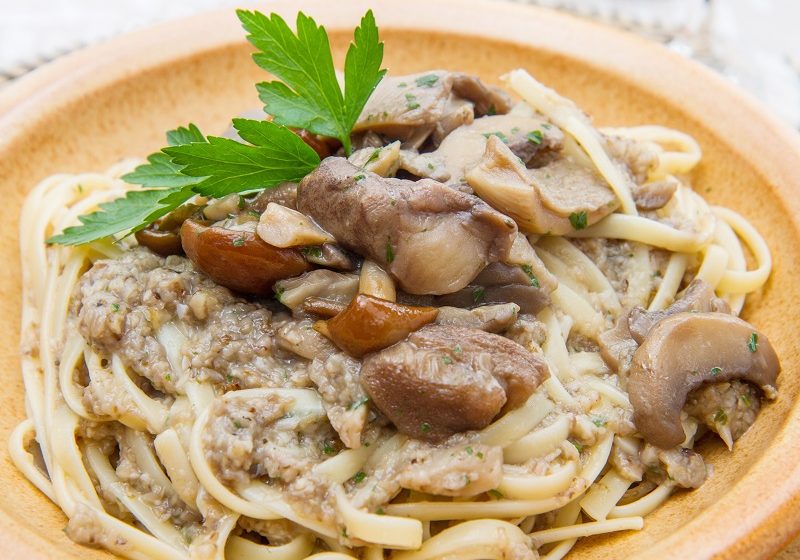 Ingredients
400g dried linguine
50g unsalted butter
2 tbsp extra-virgin olive oil
1 medium onion, finely chopped
500g mixed mushrooms, roughly chopped
100ml dry white wine
200g crème fraîche
230g Stinking Bishop, cut into small cubes
handful of flat-leaf parsley, chopped
How to make it
Earthy mushrooms, moreish linguine and sweet (and extremely pongy!) Stinking Bishop are the core components of this dish.  This Linguine with Stinking Bishop recipe can be found in Milk Made which is a book about cheese… How to choose it, serve it and eat it.
Bring a large saucepan of salted water to the boil
Add the linguine and cook until al dente
In a frying pan, heat the butter and oil over high heat
Add the onion and sauté for 2 minutes
Next add the mushrooms and cook for about 5 minutes, or until they are almost cooked through
Pour in the wine, bring to the boil and cook until the liquid has reduced by half
Add the crème fraîche and the cheese and bring to the boil again
Reduce the heat and simmer for 3 minutes, stirring occasionally
Drain the pasta, then return to the saucepan and toss through the mushroom mixture
Serve the Linguine with Stinking Bishop with a sprig of flat leaf parsley
Other recipes
Don't let the name put you off this wonderful recipe – Stinking Bishop is an incredibly special cheese that everyone should try once in their lives. This wonderful tart is a recipe people will be asking you to make it time and time again…
We've slightly fallen in love with Black Cow Vodka, made from milk! So we're featuring this Cheesy Pasta alla Vodka recipe using their vodka, and of course, their Black Cow Deluxe Cheddar. Ghengis Khan would be proud.
Here's a simple yet mouth-watering recipe that's easy to make – tagliatelle with sweet pecorino pesto, fresh, herby and tasty…