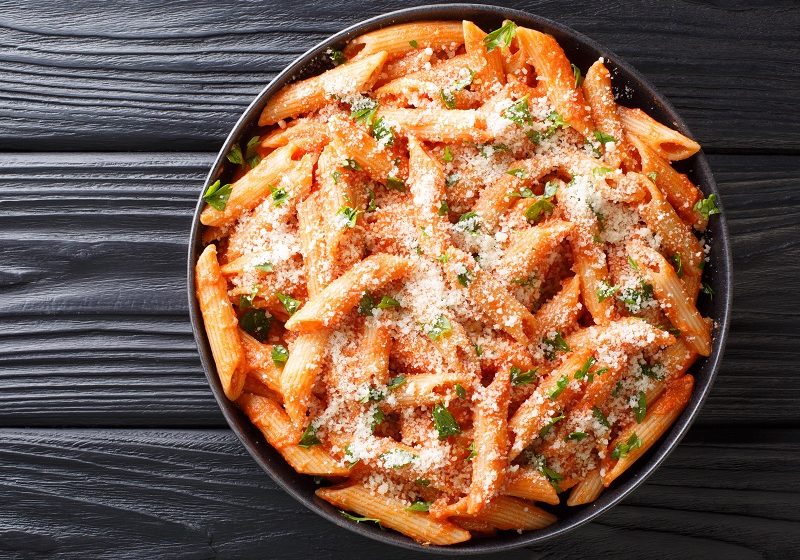 Ingredients
Serves 4
Olive oil
Unsalted butter
1 onion
6 cloves garlic, chopped finely
1/2 tsp dried oregano
400g chopped tomatoes
120ml double cream
60ml Black Cow Vodka
Salt & pepper
How to make it
We've slightly fallen in love with Black Cow Vodka, made from milk! So we're featuring this Pasta alla Vodka recipe using their vodka, and of course, their Black Cow Deluxe Cheddar. Ghengis Khan would be proud.
Boil some water and add your pasta of choice – we favour penne
Heat some oil and butter in a skillet
Fry the onions and sauté until soft and brown
Add the garlic, oregano and crushed red pepper flakes
Add a can of chopped tomatoes
Bring the mixture to the boil, then simmer for about 20 mins, until it becomes thick
Season with salt and pepper
Place the sauce in a blender with the vodka and cream. (If you don't have a blender you can skip this step)
Blend until smooth
Return to the saucepan, then bring to a boil to cook off the vodka
When the pasta is done, drain and add to the tomato mixture
Grate in some Black Cow Deluxe Cheddar
Season to taste
Serve the Pasta alla Vodka with a final grating of cheddar
As the vodka is all cooked out this won't get you drunk and is safe for the whole family to eat!
Other pasta recipes
This Gorgonzola Pasta Bake has a crusty walnut and bread topping which makes it like a crumble. With added vegetables it's a great dinner option for the whole family.
A simple yet mouth-watering recipe that's easy to make.  Tagliatelle with sweet pecorino pesto; fresh, herby and tasty…
Beauvale by Cropwell Bishop is a slightly milder blue than Stilton, but with an excellent depth of flavour and rich, soft taste. It's perfect with pasta and balances well with meat which is why it's the ideal blue for this Steak Pappardelle.