Steak with Beauvale Pappardelle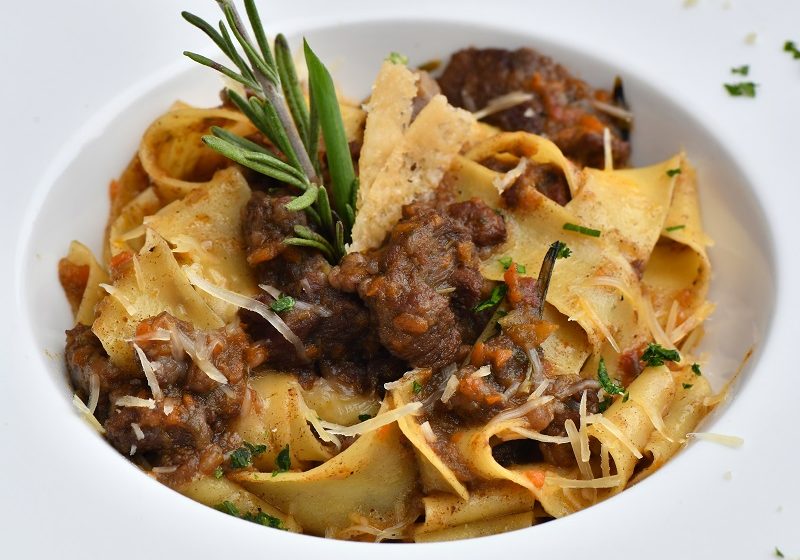 Ingredients
350g dried pappardelle pasta
1 tbsp oil
2 rump steak, approx 300g each
2 carrots, sliced thinly or grated
250g mushrooms
200g crème fraîche
50g Beauvale blue cheese, with extra for sprinkling
Salt and Pepper
How to make it
Beauvale by Cropwell Bishop is a slightly milder blue than Stilton, but with an excellent depth of flavour and rich, soft taste. It's perfect with pasta and balances well with meat which is why it's the ideal blue for this Steak Pappardelle.
Bring a large pan of salted water to the boil
Cook for around 8 minutes, stirring occasionally to ensure the pasta doesn't stick to itself
In a large frying pan with high sides, heat the oil
Season the steaks and then fry for 5 minutes, or until your desired texture
Remove the steaks and place to one side
Wipe the pan clean and then put back on heat with new oil
Fry the carrots until soft, then add the mushrooms
Once all veg are soft, add the crème fraîche and Beauvale cheese until melted
Slice the steaks
Drain the cooked pasta, keeping a little of the salt water
Add the pasta to the mixture and toss through
If it's a little dry add a splash of the pasta water
Crumble or shave over a little more of the Beauvale over the pappardelle
Season, and serve with a sprig of rosemary
Other pasta recipes:
Pecorino Pesto Pasta is a simple yet mouth-watering recipe that's easy to make and sends you straight to the Tuscan hills with one mouthful.
This spinach, pasta and Stilton bake is a simple meal that the whole family can enjoy.
Spinach and Walnut Fettuccini has combines texture and flavour to make every mouthful magnificent.