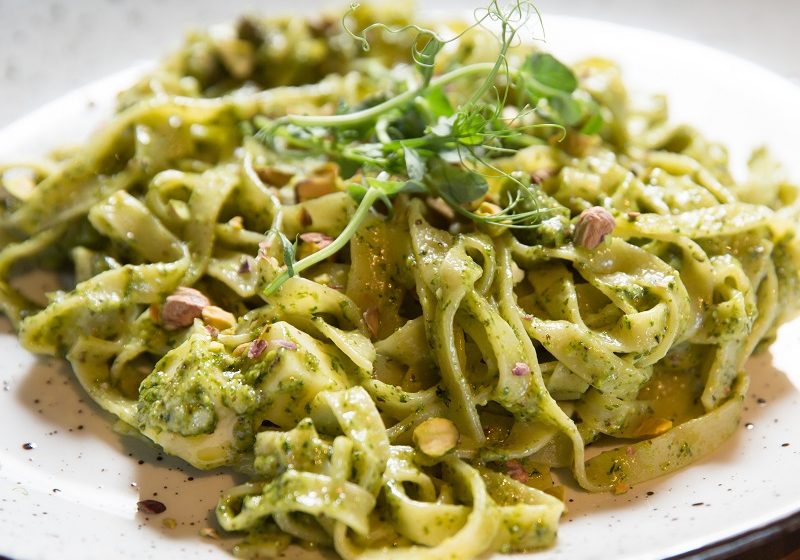 Ingredients
Serves 4
400g fresh tagliatelle
1 clove garlic
big bunch of fresh basil
30g pine nuts
40g Pecorino Toscano DOP, grated
Extra virgin olive oil
Salt and pepper
How to make it
Pecorino Pesto Pasta is a simple yet mouth-watering recipe that's easy to make and sends you straight to the Tuscan hills with one mouthful. We recommend using fresh tagliatelle and Italian Pecorino Toscano DOP for a salty, savoury flavour.
Use approx 100g fresh tagliatelle per person
Boil the fresh tagliatelle in salted water until limp and el dente
It's easiest to do all the mixing in a food processor bowl
Start with crushing garlic
Crush sea salt in a pestle and mortar then add
Next add the basil leaves, chopped
Add the pine nuts – these can be lightly roasted in a pan first for extra flavour, if you have the time
Then add half the Pecorino Toscano DOP
Add a little oil and start pulsing, adding oil until you get an oozy consistency
Add the remaining cheese, then season with salt and pepper
Blend until you're happy with the consistency
Drain the pasta and add the pesto into the saucepan, mixing until all the pasta is covered
Serve the Pecorino Pesto Pasta with an extra sprinkling of cheese.
You can serve simply by itself – perfect for lunch, or with garlic bread and a fresh salad for supper.
Try it with our Green Thunder Cheddar Cheesy Garlic Bread.