French Cheese and Wine Pairing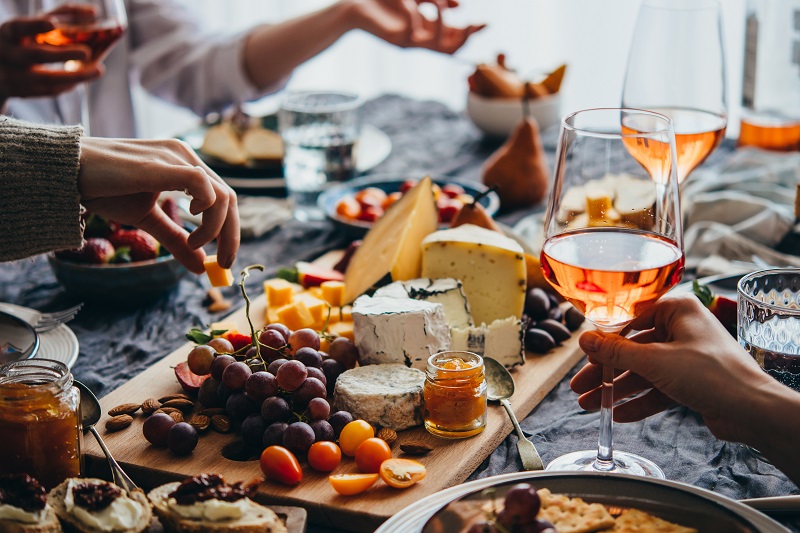 The quintessential French holiday involves sampling plenty of local cheese, often alongside a regional wine. When it comes to recreating the perfect French cheeseboard at home however, it can be difficult to decide what cheeses represent the 'creme-de-la-creme'. Indeed, Charles de Gaulle famously said: "How can anyone govern a nation that has two hundred and forty-six different kinds of cheese?".
So to help, we've picked some of France's most well loved cheeses, of different styles, and paired them with a suitable red, white, sparkling or rose wine to create the perfect French cheese and wine pairing. Many of the cheeses are sourced from the same landscape where the flavours tend to naturally complement each other, others simply offer the best combination on the palate.
Possibly the most famous blue cheese in the world, and France's second most popular cheese. Did you know that the French live longer than any other nationality in Europe and that's been put down to their consumption of moulded cheeses like Roquefort? They found that Roquefort in particular has anti-inflammatory properties, and that these properties worked best the riper the cheese.  This low mortality rate can also be attributed to the amount of red wine that the French consume, so really, we're doing you a favour in offering this perfect French cheese and wine pairing. Ideally, pair Roquefort with red wine, and in particular this juicy and smooth Parcel Series Saint-Émilion Grand Cru Organic 2017. The organic wine comes from a top estate known for producing rich, complex and long-lived wines in Bordeaux's Right Bank.
Pont l'Eveque was introduced by monks in the Pays d'Auge in the Thirteenth Century, with a manuscript from the time writing that a fine meal should always end with some of this cheese. The medieval version of the cheese was made by Cistercian monks and called Angelot which was also the name of a coin, as the cheese was used to pay taxes and wages.
It is generally ranked alongside Brie, Camembert, and Roquefort as one of the most popular cheeses in France. The light yellow rind developed from a brine wash, encases a luxurious soft interior. It's creamy but with a slightly sour, mushroomy taste. Its subtlety works well with a sparkling wine, or a rosé, such as this Tutiac 'Lion & The Lily' Rosé 2020/21, Bordeaux.  This wine is refreshing, fruity and aromatic and made purely from Merlot grapes. It's light and fruity, with notes of red fruits, with a long, aromatic finish and a fresh minerality.
Selles sur cher is a goats' cheese from the Loire Valley with a young and fresh with a gentle, comforting taste. The distinctive white-grey ash coating is edible and has a considerably stronger flavour than the pure white, fondant-like creamy paste inside. It'll ooze deliciously all over your cheeseboard encouraging you to scoop it up with a cracker. Also hailing from the Loire region is Chateau De Crezancy Sancerre. This Sauvignon Blanc is a beautiful expression of crisp citrus and peach flavours heightened by floral notes and balanced by a fine mineral finish. If you've ever eaten in the Loire valley you may well have sampled both this goat's cheese and wine together.
This famously stinky cheese comes from village of Époisses, in Côte-d'Or. Its pungent aroma arrives from being repeatedly washed in brine and Marc de Bourgogne brandy. The cheese is reputedly banned on French public transport, and whilst we can't actually confirm this, we can tell you that we most certainly know when there's an Epoisses around. This cheese is wonderfully spicy and insanely creamy, with a lovely meaty bite to it.
As it originates from the old Bourgogne, or "Burgundy" region, it's only right that it's paired with a rich and fruity red from the area. Henri Pion Bourgogne Rouge 2018 is made from hand-picked grapes sourced from three plots on the Côte de Nuits and Cote de Beaune, and the result has remarkable balance for a simple Bourgogne Rouge. Structured and vibrant, the wine is full of ripe red-fruit notes. Its juicy flavours will complement the earthiness of Epoisses perfectly.
You'll instantly recognise Morbier from it's line of 'ash' running through the middle of the cheese. Traditionally it was made with a layer of morning milk and a layer of evening milk. The cheesemakers would end the day with leftover curd that was not enough for an entire cheese so they pressed the remaining evening curd into a mould and spread ash over it to protect it overnight. The next morning, the cheese would be topped up with morning milk.
Nowadays, the cheese is usually made from a single milking with vegetable dye replacing the traditional ash line. It has a creamy Alpine taste, similar to Raclette cheese or Comté, but softer and slightly more bitter. With notes of lychee, mango and white pepper, this Cave de Hunawihr Kuhlmann-Platz 'Cuvée Prestige' Gewürztraminer 2018/19 is the perfect accompaniment from the Alsace region which borders Franche-Comté.
A French cheeseboard would not be complete without this hugely popular hard French Alpine cheese. It's made in the Jura from milk produced by the same cows that produce the milk for Vacherin Mont D'Or once the summer has ended. It was created because the shepherds of the Jura would spend so long up in the mountains in their huts that they needed a hard cheese that would mature slowly throughout their stay away from the town.
Today, France makes 66,500 tonnes of Comté annually – it's their most popular cheese and second biggest cheese export. It has a mild, slightly sweet flavour with nutty undertones. Smooth and rich, it's easy to eat as it comes, or with a dash of something like a sweet chilli jam or fig relish. We enjoy it with a dry white, or Champagne. Try it with Chanoine Frères 'Réserve Privée' Vintage Campagne which has fine, delicate bubbles and rich flavours of candied fruit, roasted hazelnuts and honey.
We have a number of French cheese gift boxes that contain a wonderful selection of French cheese, all creating perfectly balanced cheese boards. Take a look at The French Superieur Selection Box, The French Selection Box and The French Tasting Box.
For more French cheese and wine pairing ideas, try these wine pairing articles.