Green Thunder Cheddar Cheesy Garlic Bread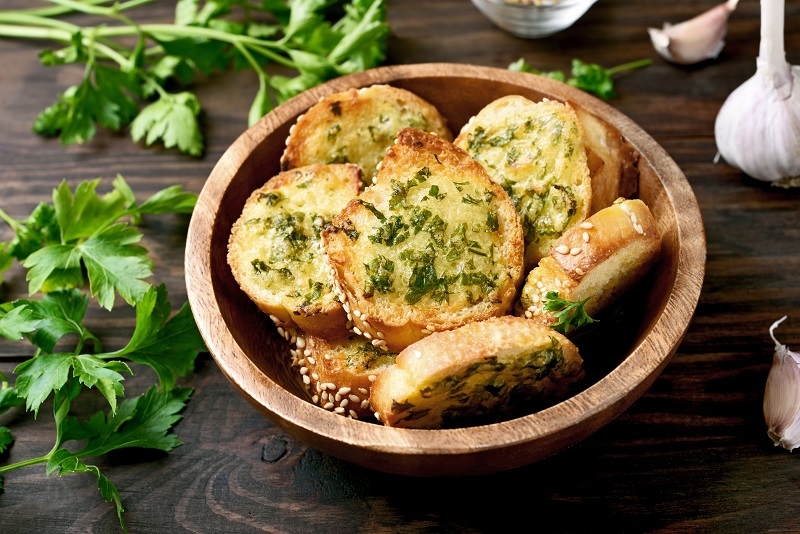 Ingredients
1 french stick/baton
3-4 Garlic Cloves
100g butter
handful of fresh parsley
100g Green Thunder
How to make it
There is nothing quite like homemade cheesy garlic bread. We make ours extra cheesy by using Green Thunder which has additional flavours of garlic and garden herbs. The cheddar is strong enough to balance the garlic and all the flavours combined really packs a punch.
Cut the baguette into slices around 1 inch thick – cut at an angle to give you more bread per slice
Grill under a medium heat until lightly toasted on both sides
Melt the butter in the microwave for 20-3o seconds or until it becomes liquid
Finely chop up 3-4 garlic cloves
Finely chop a handful of fresh parsley
Add most of the chopped parsley and chopped garlic to the butter
Using a pastry brush, coat one side of each of the toasts with the butter and garlic mix, ensuring each get enough parsley and garlic
Sprinkle Green Thunder onto each toast
Sprinkle each with the remaining chopped parsley
Place back under grill until the cheese has melted and the toast has browned
Cheesy garlic bread is a great accompaniment to these recipes:
A simple yet mouth-watering recipe that's easy to make – tagliatelle with sweet pecorino pesto, fresh, herby and tasty…
Goat's cheese and pasta salad – the quintessential summertime meal, light and fresh but filling enough for supper.