Roasted Tomato, Pasta and Goat's Cheese Salad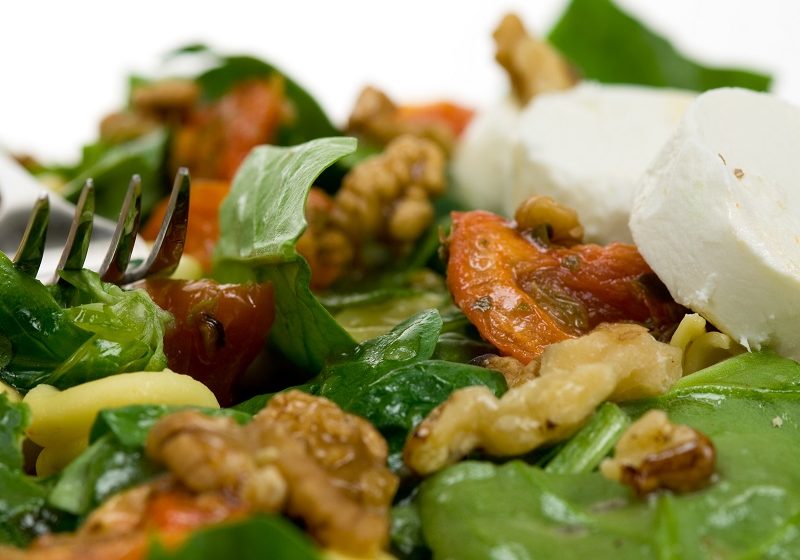 Ingredients
Serves 4
16 plum tomatoes
handful of basil leaves
400g of pasta
2 garlic cloves
80g walnuts
120g spinach
2 tablespoons lemon juice
olive oil
salt and pepper
215g Farleigh Wallop
How to make it
This Goat's cheese salad is the quintessential summertime meal, light and fresh but filling enough for supper. Farleigh Wallop from the 'Alex James Presents…' range has a lovely, clean yet savoury flavour which complements the sweetness of the roasted tomatoes.
Tomatoes
Preheat the oven to 180°C/160°C fan/Gas 6.
Score a cross on the base of each tomato
Place each tomato in a heatproof bowl and cover with boiling water, leave for 30 seconds, then transfer to cold water and when cooler to touch, peel the skin away from the cross
Cut the tomatoes in half and place in on a wire rack over a baking tray – cut side up
Season with salt, pepper and basil leaves
Bake for 3 hours
Pasta
Any short-cut or decorative pasta will work, something like Strozzapreti or frusilli would work well
Cook the pasta in a large pan with a pinch of salt, until al dente
Drain and put to one side, cover to keep warm
Walnuts
Turn the oven up to 180°C fan and spread the walnuts on some baking parchment on a baking tray
Roast for 10 minutes, turning occasionally
Bringing it together
Heat some oil in a pan and add the garlic (thinly sliced) until it sizzles
Add the spinach leaves allowing to gently wilt – 1 minute max (or you can add the spinach leaves raw for added crunch)
Add a drizzle of lemon juice
Slice up your roasted tomatoes
In your salad dish combine the spinach with tomatoes, dress with the remaining oil and walnuts
Slice your Farleigh Wallop into 1.5cm rounds and place on top of salad
Serve your Goat's cheese salad with a glass of Sauvignon Blanc, such as Domaine Michel Girard Sancerre.