Taleggio and Grape Focaccia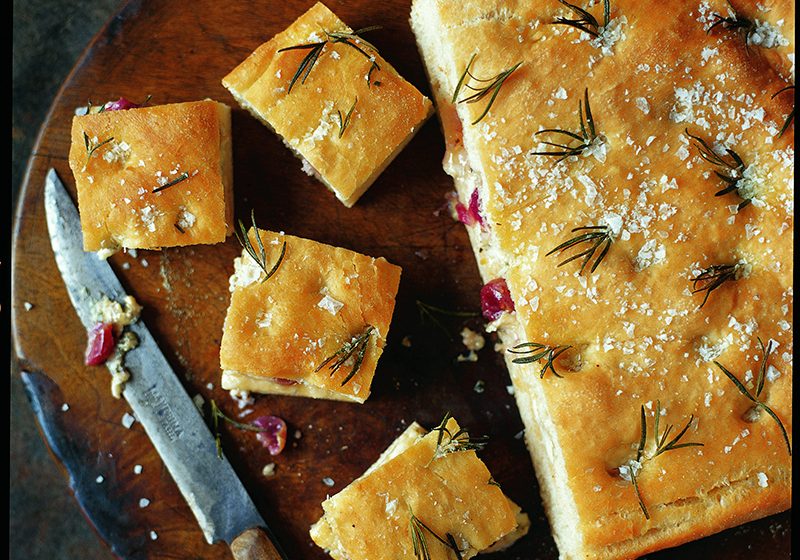 Ingredients
SERVES 6–8
250 g strong white flour
250 g Italian '00' flour
1 teaspoon quick-acting yeast
1 teaspoon golden caster sugar
2 teaspoons fine sea salt
300 ml hand-hot water
2–3 tablespoons olive oil,
plus extra to drizzle
30 g Parmesan, freshly grated
175 g Taleggio (rind removed), thinly sliced
75 g Gorgonzola, thinly sliced
150 g red seedless grapes
2 sprigs of fresh rosemary, torn into pieces
a little fine or coarse semolina (optional)
coarse sea salt and freshly ground
black pepper
an 18 x 32-cm baking tin, lightly greased and dusted with fine semolina, if using
How to make it
This gorgeously gooey Taleggio and Grape Focaccia makes a great accompaniment for a selection of antipasti.
Put the flours, yeast, sugar and salt in a large bowl. Mix well, then make a well in the centre.
Pour in the hand-hot water and 1 tablespoon of the olive oil, then bring the mixture together. Add a little extra water, if necessary.
Tip the dough out onto a lightly floured work surface. Knead until smooth and it springs back when you press it with a finger, about 5–6 minutes.
Put in a lightly oiled bowl, cover with cling film and leave to rise for about 45 minutes or until doubled in size.
Tip the dough out of the bowl and press down on it to knock out the air.
Give it a couple of swift turns on the work surface, then divide in half but make one half slightly bigger than the other.
Stretch and press the larger of the 2 halves into the prepared baking tin, covering the base and sides.
Sprinkle over the Parmesan, then add the sliced Taleggio and Gorgonzola and cover with the grapes.
Season well with pepper. Roll out and stretch the other piece of dough to fit over the filling, bringing up the dough underneath and pressing to seal round the sides.
Cover with clingfilm or a tea towel and leave for another 30 minutes or so to rise.
Fifteen minutes before you think the dough will be ready, preheat the oven to 220˚C (425˚F) Gas 7.
Using the tips of your fingers, make deep indentations in the dough, taking care not to deflate the whole bread, and push the rosemary into the holes.
Brush the surface with the remaining olive oil and season with coarse salt.
Bake in the preheated oven for 10 minutes, then reduce the heat to 200˚C (400˚F) Gas 6 and cook for another 15 minutes until the bread is well risen and golden.
Drizzle the Taleggio and Grape Focaccia with a little more olive oil, leave to cool for 5–10 minutes, then cut into squares or strips.
Recipe courtesy of:
Fiona Beckett's Cheese Course
by Fiona Beckett
Photography by Richard Jung
Published by Ryland Peters & Small
Buy now for more Fiona Beckett recipes!