Spinach, pasta and Stilton bake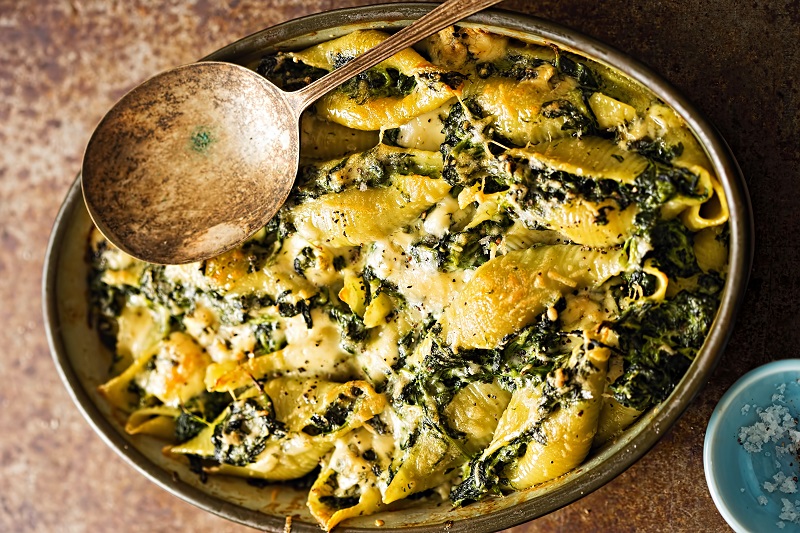 Ingredients
300g conchiglie pasta
500ml semi-skimmed milk
3 tbsp cornflour
200g spinach, washed
Salt and pepper
How to make it
A pasta bake is a simple meal that the whole family can enjoy, the Stilton from Cropwell Bishop in this recipe gives it a creaminess, as well as a salty, nutty edge. Serve with warm crusty bread.
Heat the milk in a pan until tiny bubbles form around the edges, then lower the heat
Add the cornflour in spoonfuls to the hot milk
Mix together to form a paste
Stir the milk until it starts to thicken
Add the Stilton, and season
In a separate pan, wilt the spinach and then strain all of the liquid out of it
Boil the pasta then strain
Stir through the cheese sauce
Add the spinach
Top with a crumbling of the Stilton
Place the pasta bake under a hot grill for 5 mins or until the cheese has melted and gone slightly golden
Other recipes:
Here's a simple yet mouth-watering recipe that's easy to make – tagliatelle with sweet Pecorino pesto, fresh, herby and tasty…
This Goat's cheese and pasta salad is the quintessential summertime meal, light and fresh but filling enough for supper.
This is the ideal date night dinner – well cooked fillet steak with a gorgeous cheesy surprise in the centre. The bacon keeps the steaks nice and juicy.