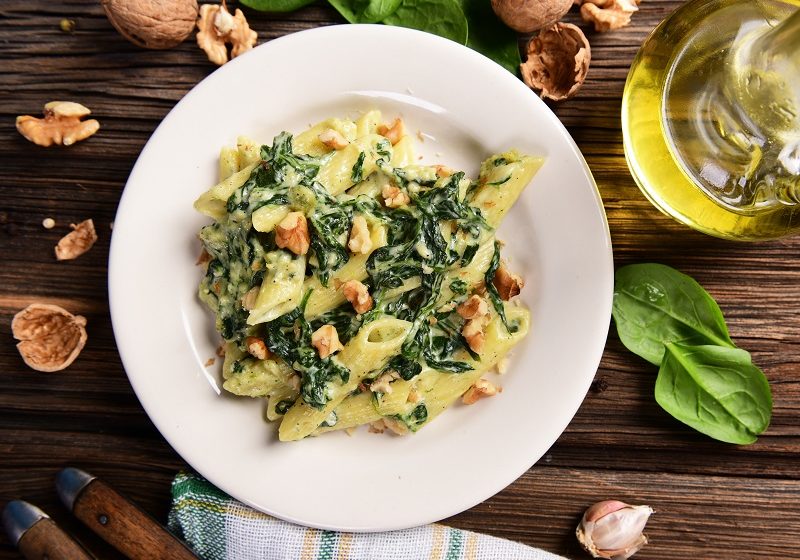 Ingredients
500g penne pasta
2 large leeks
85g butter
85g plain flour
2tsps English mustard
nutmeg, grated
1L milk
200g Gorgonzola Dolce DOP
150g any crusty bread
85g walnut pieces
400g spinach
How to make it
This Gorgonzola Pasta Bake has a crusty walnut and bread topping which makes it like a crumble. With added vegetables it's a great dinner option for the whole family.
Heat oven to 190°C/170°C Fan/Gas Mark 5
Boil the pasta with sliced leeks for 10 mins, then drain
In a large saucepan, melt the butter on a low heat
Add the flour and make into a paste
Add the milk slowly, mixing to keep the paste smooth
When all the milk is added and it looks like a sauce, add the mustard and nutmeg
Remove from heat and stir in 130g of the Gorgonzola Dolce DOP
Place the spinach in a colander and pour a kettle of boiling water over to make it wilt
Squeeze out any excess water
Stir into the pasta, leeks and sauce
Toss the bread with the remaining cheese and walnut pieces
Spread the pasta into a ovenproof dish and cover with the breadcrumbs
Place the Gorgonzola Pasta Bake in the oven for 40mins until golden
We have other pasta recipes, such as this Pecorino Pesto Pasta, Spinach, pasta and Stilton bake or Steak with Beauvale Pappardelle.
For other Gorgonzola recipes, we have this Broccoli and Gorgonzola Quiche, Broccoli and Gorgonzola Soufflé and Gnocchi with Gorgonzola Dolce.