Broccoli and Gorgonzola Soufflé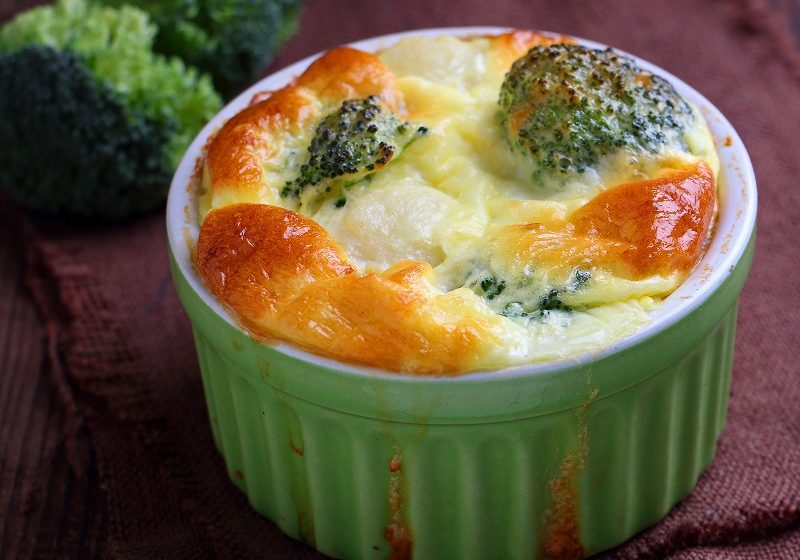 Ingredients
Serves 2
350g Broccoli
50g salted butter
3 tablespoons plain flour
200ml full-fat milk
4 medium eggs, separated
120g Gorgonzola Dolce DOP
Salt and Pepper
How to make it
Make everyone believe you're a professional chef with this incredible Broccoli and Gorgonzola Soufflé recipe. The combination of flavours and textures make this a real showpiece, they taste incredible and look fantastic.
Preheat the oven to 180°C / 160°C Fan / Gas mark 4
Cut the broccoli into florets, not too big not too small. Steam (or boil) until they are tender/quite soft
Grease 2 soufflé dishes
Melt the butter in a saucepan, then add the flour making a roux
Stir  in the milk and season, then bring to the boil slowly
Add in the steamed broccoli and cook for 2 minutes
Reduce the heat and keep stirring with a wooden spoon until thick
Once slightly cooled, mix in the egg yolks and Gorgonzola, a little at a time
In a separate bowl whisk the egg whites in a large clean bowl until stiff
Fold into the mixture being careful to keep the air in the mixture (don't mix too much)
Place the mixture into the Soufflé dishes and sprinkle with any remaining Gorgonzola
Bake in the centre of the oven for approx 30 minutes, until they're well risen and have the perfect wobble
Other soufflé recipes:
Smoked Lincolnshire Poacher Soufflés not only look the business, but the cheese has an earthy and powerful taste that is nuttier than a mature cheddar with overtones of an aged alpine cheese. It takes this classic dish to a whole new level.
Creamy, crunchy and mature cheddar No.1 from Alex James Co. makes these soufflés incredibly delicious. Perfect for dinner parties.
Master the cheese soufflé with this delicious recipe from Milk Made, featuring strong blue cheese and a hard Alpine cheese.