Blue Cheese Soufflés with Pickled Cherry and Hazelnut Salad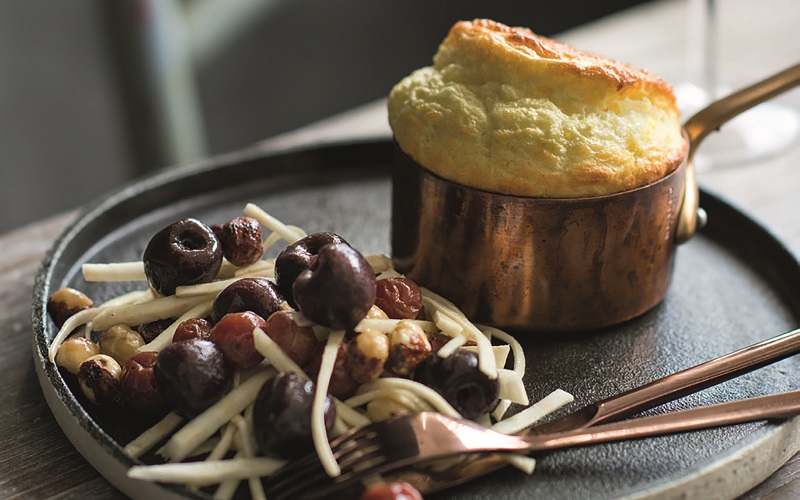 Ingredients
Serves 4
60g (2 oz) butter, plus extra for greasing
20g (3/4 oz) finely grated hard Alpine cheese
2 shallots, finely chooped
35g (1 ¼ oz/ ½ cup) plain all-purpose flour
250ml (8 ½ fl oz / 1 cup) hot milk
4 egg yolks
75g (2 ¾ oz) strong blue cheese, coarsely crumbled
5 egg whites
Pickled Cherry & Hazelnut Salad:
2 teaspoons Dijon mustard
2 tablespoons sherry vinegar
60ml (2 fl oz / ¼ cup) hazelnut oil
200g (7 oz) celeriac, peeled and julienned, placed in water with a squeeze of lemon
200g (7 oz) pickled cherries, pitted
70g (2 ½ oz) toasted hazelnuts
How to make it
Master the cheese soufflé with this delicious recipe from Milk Made, featuring strong blue cheese and a hard Alpine cheese.
This pickled cherry and hazelnut salad really bring this 70's dish into the new age. Here's how to make it:
Thoroughly grease the inside of 4 ovenproof ramekins and sprinkle with the grated hard cheese (tip any cheese that does not stick into the next ramekin until it is all used up). Tie a collar of baking paper around each ramekin with kitchen string, so that the baking paper stands about 5 – 6 cm (2 – 2 ½ inches) proud.
Preheat the oven to 170°C (340°F)
Melt the butter in a saucepan over low heat, being careful not to let it brown. Add the shallot and sauté for a few minutes until translucent. Add the flour and stir for 2 minutes until the mixture comes together. Using a whisk, stir in the milk gradually, whisking as you go to prevent any lumps. Bring to a simmer and stir for 2 – 3 minutes or until the sauce thickens. Remove from the heat and allow to cool for a few minutes. Add the egg yolks one at a time, stirring well between each addition, until combined. Add the blue cheese and stir through, but keep some of the texture of the cheese rather than melting it completely. Season with salt and pepper.
In a separate bowl, whisk the egg whites until soft peaks form. Using a large metal spoon or spatula, fold one-quarter of the egg white into the cheese mixture, trying to keep the mixture as fluffy as possible. Fold in the remaining egg white.
Divide the mixture evenly among the four ramekins and smooth over the tops using a spatula. Run your finger around the inside of the baking paper collars to pull some of the mixture away from the baking paper; this will help the soufflés rise. Place in the oven for 30 minutes or until the soufflés have risen and are golden on top.
To make the salad, combine with the mustard, sherry vinegar and hazelnut oil in a serving bowl and season with salt and pepper. Drain the celeriac and toss through the vinaigrette. Add the pickled cherries and the hazelnuts and mix thoroughly.
Serve the soufflés as soon as they come out of the oven, with the salad on the side.