Gnocchi with Gorgonzola Dolce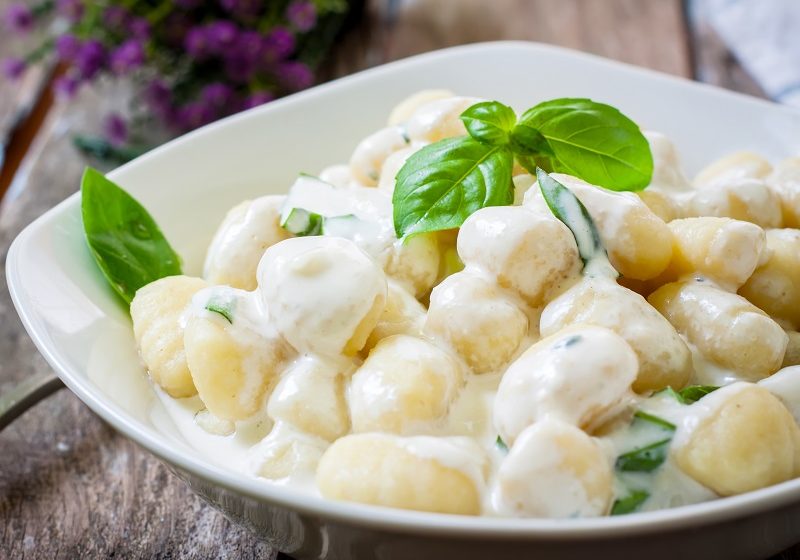 Ingredients
For the gnocchi:
6 medium potatoes
Olive oil
2 tsp grated nutmeg
Salt and pepper
1 egg yolk
approx 130g plain flour
sprinkling of semolina flour
For the sauce:
3 tbsp butter
6 tbsp double cream
Basil leaves
Parmesan Cheese for grating
How to make it
Delicious Gnocchi with Gorgonzola Dolce DOP – the best choice for Italian cheese sauces as it's creamy and deep in flavour. You can make this dish with pre-bought gnocchi, but if you fancy trying your own, here's a great recipe.
Preheat the oven to 220°C / gas mark 7
With the skins still on, bake the potatoes in oil until they're fluffy on the inside and crisp on the outside – don't parboil them
Whilst they're still warm, scoop out the flesh and place into a bowl
Add nutmeg, salt, pepper, egg yolk and enough flour to bind the mixture
Mix it together and knead until you have a dry dough
Make a long tube of dough, about the thickness of a sausage
cut into small pieces about an inch square
on a tray, spread some semolina flour and place each dough piece on the tray
Boil some water and add a pinch of salt
In a frying pan add the Gorgonzola, butter, black pepper and double cream and mix until you have a smooth cheese sauce
Drop the gnocchi into the boiling water for 4 minutes or until they float
Drain, and then mix in with the cheese sauce
Serve with basil leaves scattered on top
Gnocchi with Gorgonzola is excellent with garlic bread – try this recipe.