Cranberry and Valley Brie Tartlets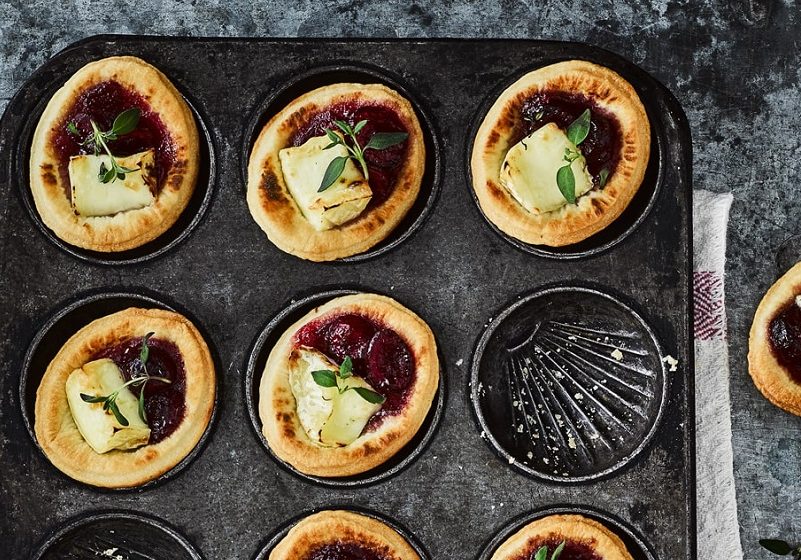 Ingredients
Makes: 24
225g shortcrust pastry
175g Tracklements Cranberry, Port & Orange Sauce
200g Alex James No. 3 Valley Brie cut into ½ inch cubes (with rind left on)
Fresh thyme to garnish
How to make it
Valley Brie Tartlets combine a silky soft and lemony cheese with bright and fruity Cranberry sauce that tingles on your tongue.
Pre-heat the oven to 180oC/350oF/gas mark 4.
Roll the pastry out until it is 3mm thick and stamp out circles to fit in a tartlet tin
Chill for 30 mins
Bake the pastry cases blind for 10mins
Remove from oven and put 1 teaspoon of Cranberry Sauce in each pastry case
Add one or two cubes of the Valley Brie
Bake the Valley Brie Tartlets for approx 10-15 mins until raised and golden brown
Top with a sprig of fresh thyme
Other Tracklements Recipes
This goats' cheese tart with Sticky Fig Relish is full of flavour, simple to make and will take your picnic fare from ordinary to extraordinary!
This creamy vintage cheddar, ham and pea risotto enjoys flavours from three cheeses: tangy and sharp from the cheddar, nutty and salty from the parmesan and sweet, creamy flavours from the mascarpone. Ideal for a mid-week dinner with a rocket salad or some steamed greens.
Ploughman's is the quintessential British sandwich. It's just the ticket for an on-the-go lunch and is sure to keep you stuffed until dinner.