Poached Potted Salmon and Finn Triple Cream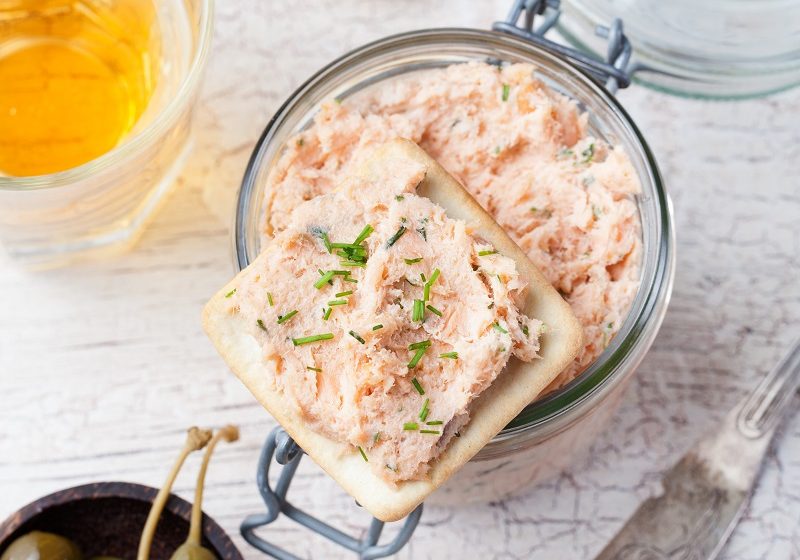 Ingredients
2 x 150g salmon fillets
50g butter
100g smoked salmon slices
100g Finn Triple Cream
Dill
Black pepper
Lemon zest
How to make it
When you need a sophisticated lunch option look no further than our Potted Salmon and Finn Triple Cream. It's ideal for creating little party canapes or to spread on a slice of toast, it'll even work as a sandwich filler. It's decadent and rich so one little pot should serve about 6-8 people.
Poach one salmon fillet:  In a saucepan with a lid, simmer the fish in enough water to cover it, for about 6 minutes. Drain and leave to cool
Cut the salmon fillets into small cubes each about 1.5cm square. Put the cubes in a pan with 50g of cubed butter and place on a low heat for about 2-3 minutes. The butter will have melted and you may want to turn over the cubes once. Remove from heat and set aside
Taking the poached salmon, flake it into chunky pieces and add to a food processor
Add the smoked salmon, dill, and the Finn Triple Cream – cubed
Add the zest of a lemon and black pepper
Blend the mixture until almost smooth, you may want to use a spatula to collect any mixture that's worked up the sides of the mixer
Remove the mixture from the mixer and place into a bowl. Add the cooked salmon cubes and fold in gently
Spoon the mixture into a small glass or ceramic jar.
Pour over the melted butter from the cooked salmon
adda few sprigs of dill or chives to garnish
Cover and leave in the fridge to set
Eat within 2 days
This recipe has been adapted from a Hairy Biker's original recipe.