Alex James Co. No 4 Goats' Cheese Salad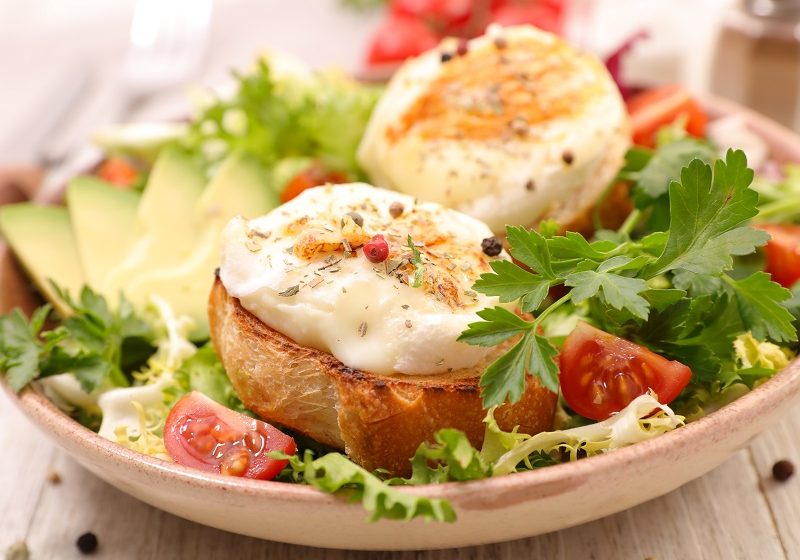 Ingredients
makes 4 'bites'
For the dressing:
50g olive oil
2 tbsp balsamic vinegar
1 tbsp Dijon mustard
1 tbsp honey
salt and pepper, to taste
For the salad:
50g cherry tomatoes
Half an avocado
A mix of radicchio, lambs lettuce and crisp frisée – or whatever green leaves you have!
For the goats' cheese bites:
100g Alex James Co. No 4 Goats' Cheese
Half a french stick
How to make it
This Goats' Cheese salad uses Alex James Goats' cheese which is particularly fresh and delicate. It has a natural acidity and an almost mousse-like texture. We love it on a french stick with a simple salad.
In a small bowl mix olive oil, vinegar, Dijon mustard, a drizzle of honey, and salt and pepper
Prepare the salad:

Cut tomatoes into quarters
Slice avocado
Use a mix of crunchy radicchio, delicate lambs lettuce and crisp frisée

Preheat grill to medium
Cut the french stick into 1 inch thick slices
Lightly toast under the grill for a few minutes each side
Cut the Alex James Goats' cheese into 25g rounds, keeping the rind on
Remove the bread and place the goats cheese slices on the slices
place back under the grill for another 2 minutes
Pull the goats cheese salad together and dress with the vinaigrette dressing
Place the bread on the salad and finish with a drizzle of the vinaigrette
Alex James' Cheese Range
From rock's greatest cheese-lover, we bring you his full range of cheeses and related products. The range includes two gift boxes – Alex James Co. British Box of 4 and Box of 6. The cheeses include:
A monster of a Cheddar – No 1 Cheddar (200g)
Soft creamy blue cheese – No 2 Blue Monday (180g)
Like butter but better – No 3 Brie (200g)
Monster of a Cheddar – No 4 Goats' (100g)
Mental but gentle – No 5 Grunge (150g)
The snazzy soft one – No 6 Sheep's (100g)