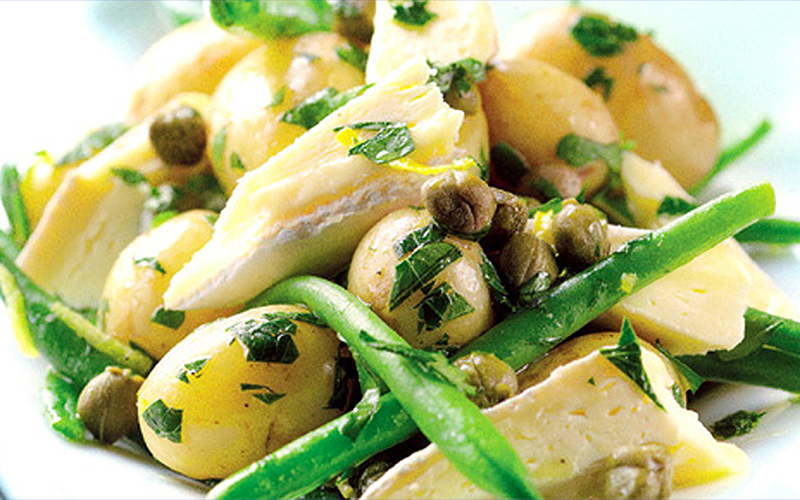 Ingredients
Serves 4
250g (8oz) Organic Bath Soft Cheese
900g (2lb) baby new potatoes
175g (6oz) fine green beans, trimmed
Finely grated zest and juice of 1 lemon
2 tablespoons virgin olive oil
2 tablespoons chopped fresh parsley
2 tablespoons capers, rinsed
About a dozen black or green olives
1 bag crisp mixed salad leaves
salt and freshly ground black pepper
How to make it
Try this delicious salad of warm fine green beans and tiny new potatoes with chunks of wonderful organic Bath Soft Cheese as a starter, light lunch or healthy supper.
1. Remove the Bath Soft Cheese from the refrigerator to allow it to come up to room temperature.
2. Put the potatoes on to cook in lightly salted boiling water. They will take 15 – 20 minutes. At the same time, cook the green beans in a little lightly salted water for about 4 – 5 minutes.
3. Meanwhile, whisk the lemon zest and juice with the olive oil and parsley in a large serving bowl. Stir in the capers and olives, then season with a little salt and plenty of black pepper.
4. Tip the warm beans and new potatoes into the dressing and leave to cool for about 10 minutes. Add the salad leaves. Cut the Bath Soft Cheese into chunks, add them to the salad and toss everything together gently to mix. Serve at once.
(Courtesy of the British Cheese Board)