Pumpkin and Roquefort Salad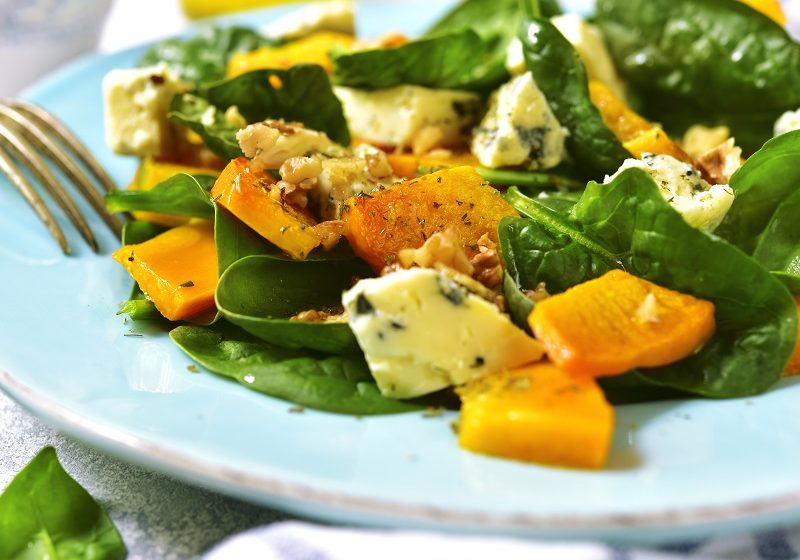 Ingredients
1 small pumpkin
6 tbsps extra virgin olive oil
50g walnuts
1 tbsp balsamic vinegar
1 tsp maple syrup
1 tsp wholegrain mustard
1 tsp light brown sugar
200g baby spinach
100g Roquefort AOC
Salt and pepper
How to make it
Pumpkin is a hugely underrated squash, but the sweetness combines delightfully with the salty blue cheese. Serve this pumpkin and Roquefort salad warm with walnuts for a delicious lunch.
Preheat the oven to  200°C Fan / 400°F / Gas Mark 7
Halve and deseed the pumpkin. Peel and cut into 1 in cubes
Place on a roasting tin and drizzle over 2 tbsp oil, season then toss until evenly coated
Roast for 35-40 mins until tender
Toss the walnuts in oil, then roast for 10 mins until they get some colour
Make the dressing by combining 4 tbsp oil with vinegar, syrup, mustard, sugar, salt and pepper
Whisk until combined
When the pumpkin is cooked, tip into the dressing until coated
Chop the Roquefort into chunks
Serve the pumpkin and Roquefort salad on a bed of spinach leaves, with walnuts scattered on top
Roquefort is salty, strong, silky and sweet. It's from the ancient caves in a village called Roquefort-sur-Soulzon, near Millau in South West France.
For other salad recipes, try this Roasted Tomato, Pasta and Goat's Cheese Salad or Blue Cheese Soufflés with Pickled Cherry and Hazelnut Salad. Or click here for the entire Salad recipe range.
For alternative Roquefort recipes we've got a sweet and savoury, cheese brioche recipe, or this delicate and delicious Cheese and Chive Tart.