Tartiflette with Reblochon de Savoie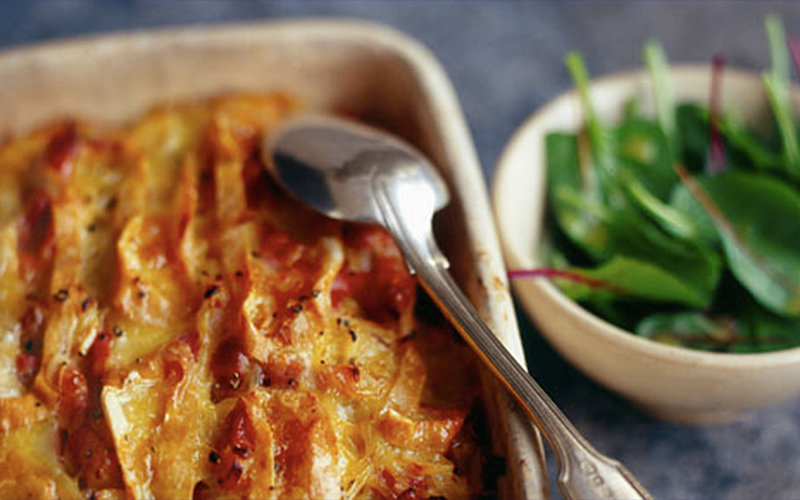 Ingredients
Serves 6
2 tbsp sunflower or other light cooking oil
200g smoked lardons or diced smoked streaky bacon
2 large onions, peeled and finely sliced (about 400g)
2 large cloves of garlic, peeled and finely sliced
700g waxy potatoes e.g. Desirée, well scrubbed
A sprig of rosemary (optional)
1 small Reblochon AOC (about 250g in weight)
150ml double cream
Salt and freshly ground black pepper
You will also need a large buttered ovenproof baking dish
How to make it
This tartiflette with Reblochon de Savoie is ideal with a crisp dry wine from Savoie or Switzerland, the same sort of wine you would drink with a fondue.
Heat the oil in a large frying pan and fry the lardons until beginning to brown. Remove from the pan with a slotted spoon. Tip in the onions, stir and fry for a low heat for about 20-25 minutes until they have collapsed right down and are beginning to brown. Add the garlic about 5 minutes before the end of the cooking time. Meanwhile cut the potatoes, unpeeled, into slices about 1/2cm /1/3 inch thick, place in a saucepan with a sprig of rosemary if you have some and cover with cold water. Bring to the boil and boil for a few minutes until the potatoes are slightly soft (up to 5 mins) then remove the rosemary, drain the water and set the potatoes aside.
Preheat the oven to 200°C/400°F/Gas 6.
Cut the Reblochon into thin slices, removing the rind if you prefer. (If you have a very mature cheese with a sticky rind you may prefer to remove it. I prefer to use a slightly younger cheese and keep the rind which adds colour and texture.)
Tip half the potatoes into the baking dish, cover with half the onions and bacon and season with black pepper. Repeat with the remaining potatoes, onions and bacon and pour over the cream. Cut the Reblochon into thinnish slices and distribute over the top of the dish then bake for 15-20 minutes until the cheese is brown and bubbling. Serve with a green salad.
Recipe courtesy of:
Fiona Beckett's Cheese Course
by Fiona Beckett
Photography by Richard Jung
Published by Ryland Peters & Small
Buy now for more Fiona Beckett recipes!