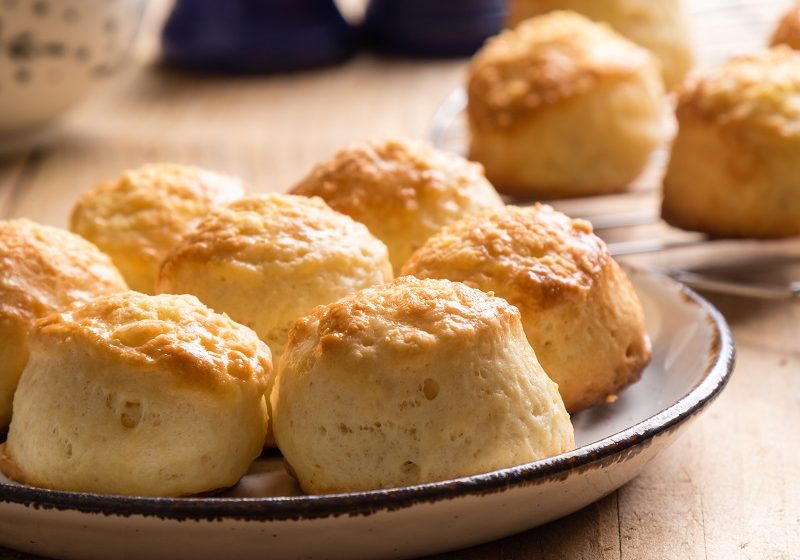 Ingredients
Makes 20 
450g plain flour
1 tsp bicarbonate of soda
1 tsp cream of tartar
2 tsps salt
85g butter
225g Berkswell Cheese
300ml natural live yoghurt
How to make it
If you make these cheese scones small they'll be delicious to eat with soup. The taste of Berkswell is sweet and dryish, very similar to a Pecorino, and if you include the rind you'll get delicious hits of flavour melting into the dough.
Preheat the oven to 200°C / Gas mark 6
Sift the flour, cream of tartar, salt and bicarbonate of soda in a mixing bowl
Rub together the butter and dry ingredients to make breadcrumbs
Stir in the roughly grated Berkswell Cheese
Make a well in the centre and stir in the yoghurt to make a smooth dough
Flour a large work surface and tip the dough into the middle
roll it out to a thickness of 1cm
Using a round cookie biscuit cutter, cut out the scones and put onto a baking sheet lined with baking parchment
Reshape and roll the dough until you've used it all
Bake the cheese scones for 10 minutes until puffed and golden
Other recipes:
Kaltbach Creamy is so soft and smooth that it practically melts in the mouth, making these biscuits light, savoury and impossible to stop eating.
Reblochon AOC has a wonderful creamy nutty taste which works incredibly well in a loaf, especially alongside salty olives. This is a very versatile recipe, you could add bacon lardons, mushrooms, herbs, anything you like really!
What could be better than sweet and savoury, warm, cheesy bread? It might take a while to make this Roquefort Brioche but it will definitely be worth it!