Little Lepe Stuffed Steaks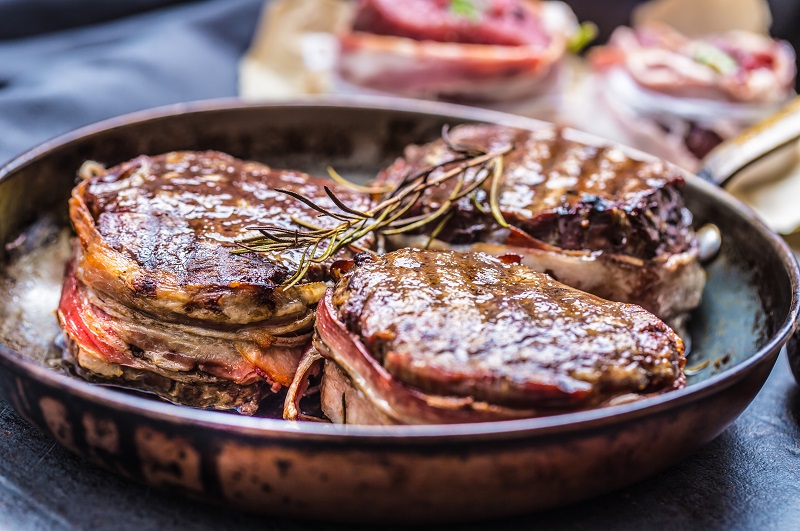 Ingredients
Serves 4
4 thick fillet steaks
150g Little Lepe goat's cheese
1tsp chopped rosemary
zest of 1 lemon
1 crushed garlic clove
4 rindless steaky bacon rashers
olive oil
salt and pepper
How to make it
Little Lepe goat's cheese stuffed steaks are a great mid-week treat for the whole family. Well cooked fillet steak with a gorgeous cheesy surprise in the centre. The bacon keeps the steaks nice and juicy.
Slice the Little Lepe into wedges, and then into cubes
Place the wedges in a bowl with rosemary, lemon zest and garlic
Mash up into a cheese paste
Cut a pocket into each steak, ensuring you keep all other edges sealed
Place a quarter of the cheese mixture into each pocket
Wrap a rasher of bacon around the side of each steak, covering the pocket entrance. Secure with a cocktail stick
Coat the steaks with olive oil and season
Cook in a hot skillet until your desired preference
Using tongs, lift the stuffed steaks to cook the bacon sides
Allow to rest, and then serve
Other goats cheese recipes:
Fried chicken with spinach and Dazel Ash Log – serve with steamed veg and crushed new potatoes for a wonderful weekday dinner.
Other steak recipes:
Steak with Blue Cheese Sauce – a classic flavour combination used by chefs and in recipes the world over.
Steak with Beauvale Pappardelle – uses Beauvale by Cropwell Bishop which is a slightly milder blue than Stilton, but with an excellent depth of flavour and rich, soft taste. It's perfect with pasta and balances well with meat which is why it's the ideal blue for this Steak Pappardelle.