Steak with Blue Cheese Sauce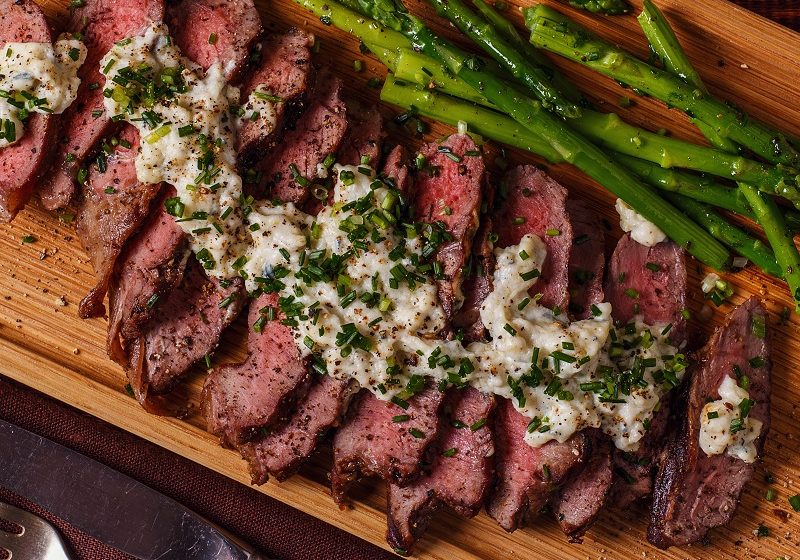 Ingredients
2 thick sirloin steaks
2 tbsp balsamic vinegar
1 tbsp olive oil
2 tsp crème fraîche
chopped parsley
How to make it
Steak with blue cheese is a classic flavour combination used by chefs and in recipes the world over. It's actually quite simple to make, try using Perl Las Blue for a strong, lingering flavour.
Marinade the steaks for ten minutes in balsamic vinegar and olive oil
In a separate bowl mix the crème fraîche and Perl Las Blue. Stir in the parsley and season with black pepper.
Pre-heat the grill to high
Using a griddle pan, heat on a high heat and add a knob of butter
When searing hot, add the steaks and cook for 2 mins on each side
Place the steaks under the grill for 1-2 minutes for medium-rare
Serve sliced, with a drizzle of the blue cheese sauce and scatter of parsley.
Steak with blue cheese works well with celeriac chips and asparagus.
For other steak recipes try:
The ideal date night dinner – Bosworth Ash Stuffed Steaks
Steak with Beauvale Pappardelle which uses Beauvale by Cropwell Bishop
Grilled sirloin steak with quince, pears and Cotswold Blue Brie
For other Perl Last Blue recipes try:
Perl Las Blue and Red Onion Tart has a winning combination of sweet red onions, salty Perl Las Blue and nutty, crunchy walnuts, wrapped in buttery puff pastry.
Leek and Perl Las Quiche with Hazelnut Pastry, great with a smooth dry white wine like a subtly oaked Chardonnay, a Pinot Blanc or a Chenin Blanc.