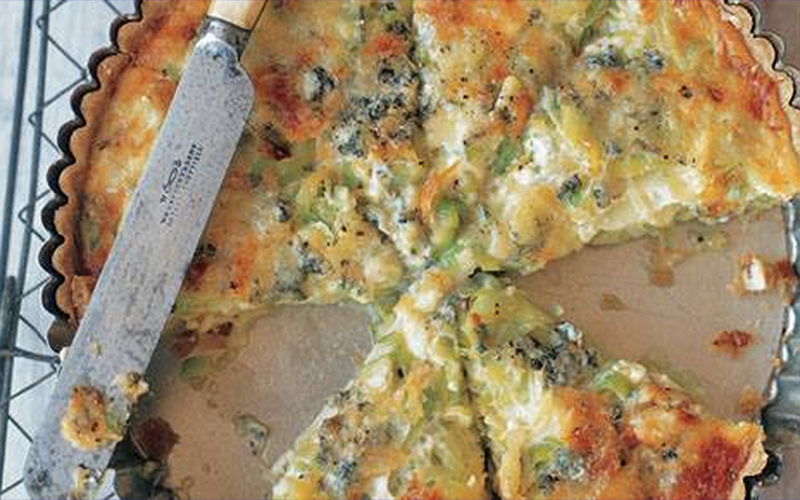 Ingredients
Serves 4-6
3 leeks (about 400g untrimmed)

40g butter

3 large eggs

250ml whipping cream

30g mature Parmesan, freshly grated

100g Perl Las Blue Cheese

Crumbledsea salt and freshly ground black pepper
Hazelnut Pastry
25g whole shelled hazelnuts
75g plain flour
50g wholemeal flour
75g chilled butter, cubed
3–4 tablespoons iced water
A deep 23-cm loose-based quiche tin
Baking beans
How to make it
Preheat the oven to 190˚C (375˚F) Gas 5.
First make the pastry. Put the hazelnuts on a baking tray and roast in the preheated oven for 10 minutes or until the skins turn dark brown. (Turn off the oven.) Leave to cool for a few minutes, then tip them onto a clean tea towel and rub off the skins. Transfer to a food processor and pulse until finely chopped but not powdery, then add the flours and pulse once or twice to mix. Add the butter and pulse to incorporate, then add just enough of the iced water to bring the mixture together. Pat the pastry into a ball, wrap in clingfilm and leave to rest in the fridge for 1 hour.
Meanwhile, trim the bases and cut the coarse outer leaves from the leeks.  Thinly slice the leeks and rinse thoroughly to get rid of any dirt or grit. Heat the butter in a large frying pan and fry the leeks for 5–6 minutes until beginning to soften. Season well and set aside to cool.
Roll the pastry out to a circle big enough to fit your quiche tin. Carefully lower the pastry into the tin, pressing it into the edges, and lightly prick the base with a fork. Leave any overhanging pastry untrimmed. Refrigerate for 20 minutes. Preheat the oven again to 190˚C (375˚F) Gas 5.
Line the pastry case with greaseproof paper, fill with baking beans and bake in the preheated oven for about 12 minutes. Leave the oven on.
Separate 1 of the eggs, reserve the white and beat the yolk and the other 2 whole eggs together. Measure the cream in a jug, add the beaten egg and half the Parmesan, season with pepper and beat well.
Remove the paper and beans from the pastry case and brush lightly with the reserved egg white. Return to the oven for another 5 minutes, then remove from the oven and reduce the oven temperature to 180˚C (350˚F) Gas 4. Trim the overhanging edge of pastry with a sharp knife. Scatter half the blue cheese in the pastry case, spoon over the leeks, then cover with the remaining blue cheese. Carefully pour the egg and cream mixtureevenly over the top (only use as much as you need to fill the case). Sprinkle over the remaining Parmesan. Bake for about 35–40 minutes until the top is puffed up and lightly browned. Leave to cool for about 20 minutes before serving. (I personally think it's nicest at room temperature.)
What to drink: Cider is always good with leeks, or a smooth dry white wine like a subtly oaked Chardonnay, a Pinot Blanc or a Chenin Blanc.
Recipe courtesy of:
Fiona Beckett's Cheese Course
by Fiona Beckett
Photography by Richard Jung
Published by Ryland Peters & Small
Buy now for more Fiona Beckett recipes!