Perl Las Blue and Red Onion Tart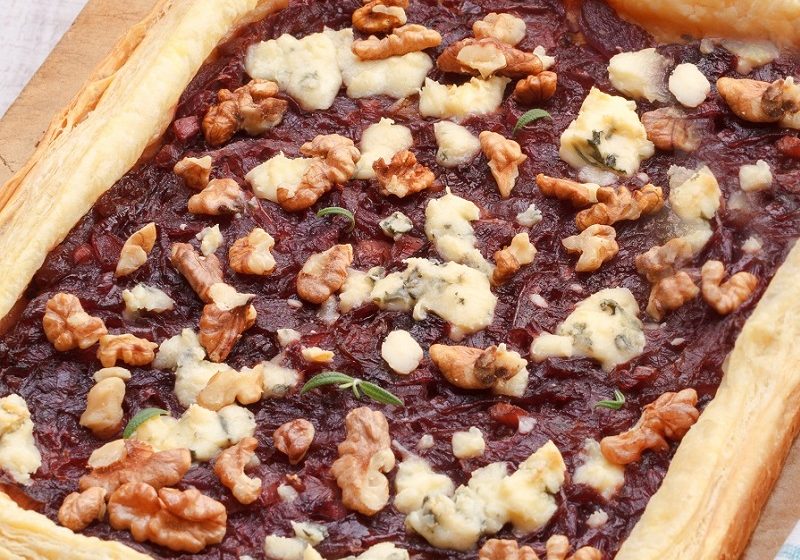 Ingredients
40g unsalted butter
4 red onions, peeled and thinly sliced
2tbsp golden caster sugar
1tbsp sherry vinegar
juice of 1/4 lemon
375g ready-rolled puff pastry
2tbsp milk
200g Perl Las Blue
Optional: 100g roughly chopped walnuts
Basil leaves, to garnish
How to make it
This Blue Cheese and Red Onion Tart has winning combination of sweet caramelisation, salty Perl Las Blue and nutty, crunchy walnuts, wrapped in buttery puff pastry.
Preheat the oven to 180°C (160°C fan) gas mark 4
Melt the butter in a pan
Add the onions and sugar, then cover and cook over a low heat for 20 mins stirring occasionally or until softened
Stir in the vinegar and lemon juice and cook uncovered for 5-10 mins
Take off the heat to let cool
Roll out the puff pastry to a rectangle approx 28 x 38cm
Fold over the sides to create an edge
brush the edge with milk
Bake the pastry for 15-20 mins until golden
When cooled, using a spatula push down the middle square of the pastry
Spread the onion mixture evenly over the centre square
Crumble the Perl Las Blue over the onion
Scatter the walnuts
Return to the oven for 10 minutes or until the cheese is melted and the tart is warm
Serve the red onion tart with basil leaves scattered on top
Other tart recipes:
This recipe is a variation from chef Ludo Lefebvre's original creation, we like the balance of salty ham and sweet apple with the pungent and rich Époisses de Bourgogne AOC. We scatter cheddar and a little sugar over the top for extra decadence.
Don't let the name put you off this wonderful recipe – Stinking Bishop is an incredibly special cheese that everyone should try once in their lives.
Salty, strong and sweet flavours of Roquefort paired with the fresh and fragrant chives makes this a delicate and delicious tart, perfect for lunches with a green salad and a side of Cartwright and Butler Tomato Chilli Chutney.