Niçoise Salad with Soft Cheese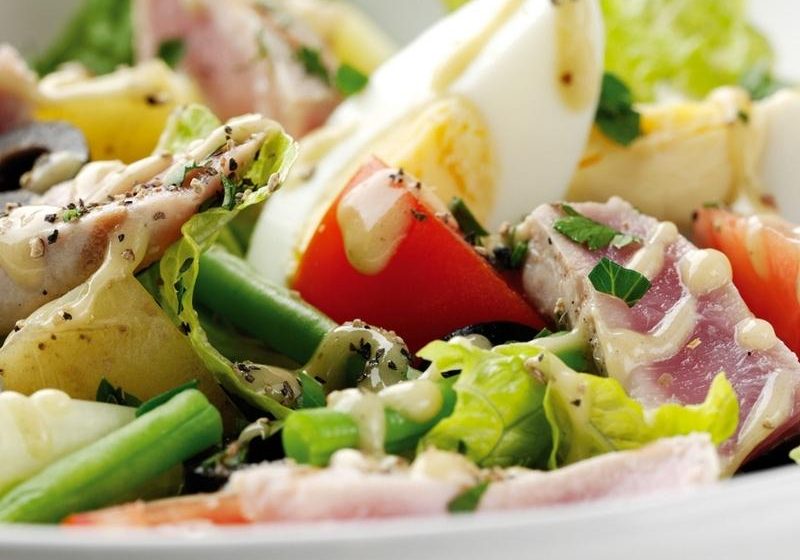 Ingredients
12 baby new potatoes
200g green beans, topped & tailed
4 tuna steaks (approx. 500g)
olive oil for brushing
200g Romaine Heart lettuce
2 tomatoes, cut into wedges
85g pitted black olives, halved
3 tbsp Tracklements Traditional French Dressing
80g Maida Vale
2 hard-boiled eggs, quartered
Black pepper
How to make it
Add a new dimension to your Niçoise salad with soft cheese such as Maida Vale, which has a tangy, punchy flavour and buttery texture.
Boil the potatoes and the beans until tender
Drain and cool under cold, running water
Cut into halves
Heat a frying pan until really hot
Brush the tuna on each side with olive oil
Pan fry for 1 min on each side and then set aside for 2 mins before slicing
Rough chop the lettuce and put in a bowl with the tomatoes, olives, potatoes, beans, tuna, parsley and French dressing and toss lightly
Add the chunks of Maida Vale, plus the egg slices, season with black pepper
Recipe courtesy of Tracklements
We have many other salad with soft cheese recipes, here are a few:
This is a lovely healthy salad and a great entertaining dish. This tuna salad uses Pong L'Eveque and would also work well using skinless chicken breasts instead of the tuna.
This Vacherin Mont d'Or salad offers a smooth and soft finish with the subtle flavour of the artichoke and the nutty, earthiness of the beetroot.