Barbecued Tuna Salad with a Gratin of Baby Tomatoes and Cheese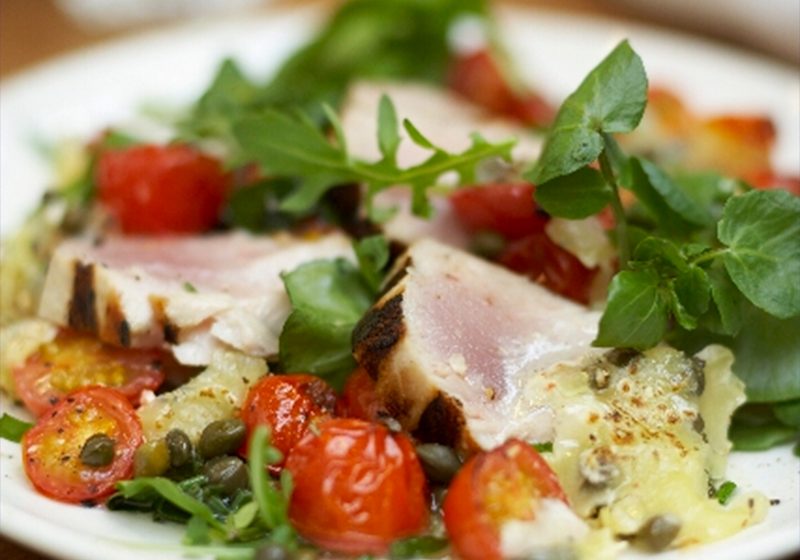 Ingredients
Serves 4
450g cherry tomatoes, halved
Ground black pepper
2 tbsp capers, finely chopped
2 tbsp thyme sprigs
Olive oil spray oil
100g Pont L'Eveque AOC
(For the dressing:)
1 tbsp virgin olive oil
3 tbsp lemon juice
1 tsp Dijon mustard
1 tsp white wine vinegar
3 tbsp chopped chives and fresh basil
4 x 175g tuna steaks
Baby spinach, rocket and watercress salad leaves to serve
Warm bread to accompany
How to make it
This is a lovely healthy salad and a great entertaining dish. This tuna salad would also work well using skinless chicken breasts instead of the tuna.
1. Preheat a grill or barbecue. Put the tomatoes into a shallow ovenproof dish in one layer season with black pepper and sprinkle over capers, thyme sprigs and drizzle with the olive oil. Grill for 10 minutes or until the tomatoes are tender but still retain their shape. Sprinkle over chunks of Pont L'Eveque AOC and turn off the grill but leave the tomatoes under the heat whilst you cook the tuna and make the dressing.
2. In a bowl whisk together the lemon juice, mustard, vinegar, sugar, herbs and any juices from the grilled tomato dish.
3. Season the tuna steaks with black pepper and lightly cover with a few sprays of olive oil spray oil . Lift the steaks directly onto the barbecue or place on a baking sheet under a hot grill. Cook for 10-12 minutes or until just cooked and rare in the middle.
4. Arrange a pile of salad leaves on serving plates and spoon over the warm tomatoes and cheese, break the tuna steak into pieces and arrange over the top, drizzle with the dressing and serve immediately with warm crusty bread.
(Courtesy of the British Cheese Board)