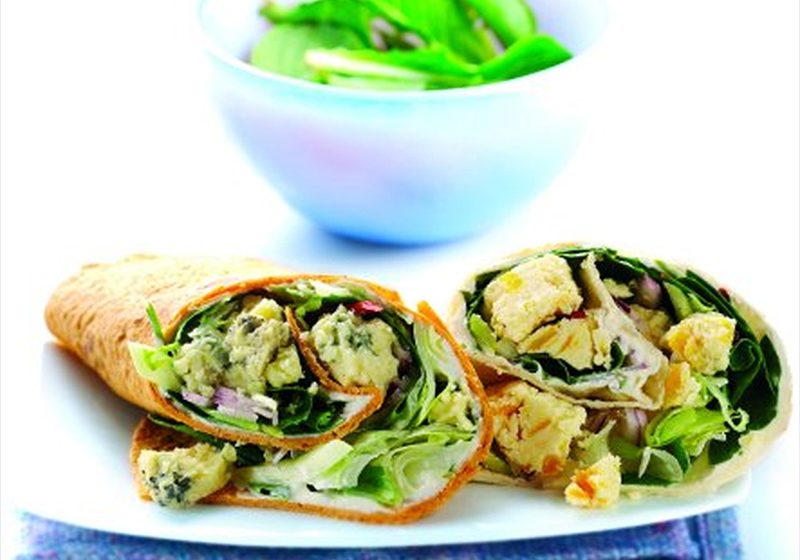 Ingredients
(Serves 4)
2 plain wraps
2 tomato-flavoured wraps
1 x 200g tub soft cheese
A few Iceberg or Romaine lettuce leaves, shredded
3 celery sticks, thinly sliced
1 small red onion, very thinly sliced
150g (6oz) Cropwell Bishop Stilton
Salt and freshly ground black pepper
How to make it
Celery doesn't have to be boring – spice it up with some sharp and creamy Stilton! These Stilton and Celery Wraps are great as snacks or as side accompaniments to soups.
1. Lay the wraps out on a flat surface. Spread an equal amount of soft cheese over each wrap.
2. Scatter shredded lettuce, celery and onion over each wrap – but not too close to the edge. Season with a little salt and black pepper.
3. Crumble the Stilton over the wraps. Roll up tightly and slice in half. Serve at once, or wrap in cling film and refrigerate to eat later.
Cook's Tip: Before you eat the Stilton and Celery Wraps, make sure that the Stilton has had time to reach room temperature for a full, mellow flavour.
(Courtesy of the British Cheese Board)
Other Stilton Recipes
This Stilton stuffed chicken is a nice twist on a traditional roast chicken, and fun to cook too! The Stilton adds a salty, moreish hit of flavour.
Pasta bakes are a simple meal that the whole family can enjoy, the Stilton from Cropwell Bishop in this recipe gives it a creaminess, as well as a salty, nutty edge. Serve with warm crusty bread.