Stilton stuffed chicken under a brick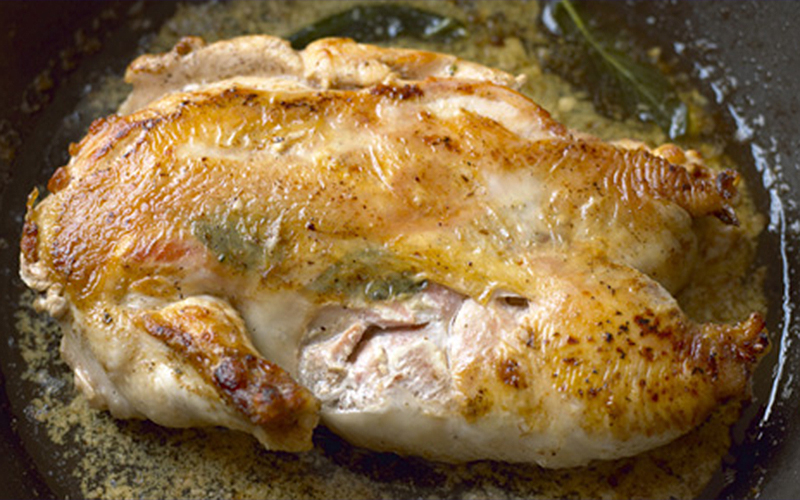 Ingredients
Serves 2
100g Cropwell Bishop Stilton
Grated zest and juice of 1 lemon
Sea salt and cracked black pepper
2 thin slices dry-cured ham
1 small (about 1.5kg) and boned oven ready chicken
8 fresh sage leaves
A knob of butter
How to make it
This Stilton stuffed chicken is a nice twist on a traditional roast chicken, and fun to cook too! The Stilton adds a salty, moreish hit of flavour. Serve with some delicious steamed veg.
1. Preheat oven to 180C (350F). Put a heavy ovenproof frying pan (smaller than the one used to cook the chicken) in the oven to heat. Crumble the Stilton and add a little lemon juice, half the zest, and season. Spread the Stilton cheese on the centre of each ham slice, keeping the rest for the sauce. Fold over the sides to make a parcel. Slide your thumb between the breast and skin of the chicken to create two cavities. Put a parcel and sage leaf inside each cavity. Pull skin back in place.
2. Melt the butter in a large, ovenproof frying pan. Pan-fry the chicken, breast side down, for 8 minutes, and then add the remaining sage. Lay buttered foil on the chicken. Put the hot pan from the oven on top. Weigh down with a brick, heavy pan or weights. Transfer to the oven for 7 minutes. Halve the chicken, place on warm serving plates, skin side up. Melt the rest of the Stilton in the pan with the remaining lemon juice and zest, and season to taste. Drizzle over the chicken.
Recipe courtesy of Arthur Potts Dawson and 'Grown in Britain Cookbook' published by Dorling Kindersley. Visit the DK site to buy the book