Meet The Makers… Village Maid Cheese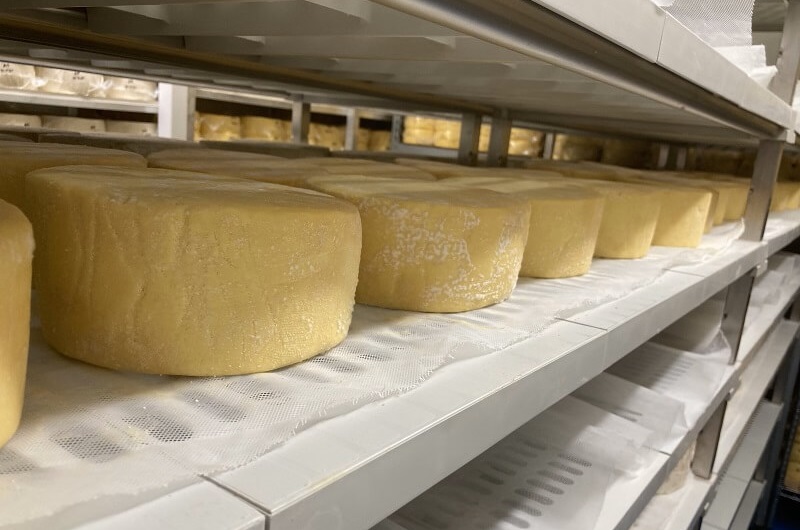 The sleepy village of Riseley in Berkshire is home to a wonderful artisan cheesemaker quietly making five wonderful cheeses, produced with local milk: Village Maid Cheese.
Village Maid Cheese was started by Anne Wigmore in 1986 after she had been working for the National Institute for Research in Dairying in Shinfield for 10 years. She was initially in the microbiological department, and then began learning her craft of cheesemaking in their research dairy. 37 years in the trade, Anne and her team are using that scientific platform to create some of the UKs most incredible washed rind and soft cheeses.
As with all of our cheese stories, it starts in the soil. All the cows milk used at Village Maid Dairy is from Heckfield Home Farm, which is a certified biodynamic market garden and organic farm. Heckfield focus on biodynamic principles to ensure the best quality and biggest flavours for their produce, through to the grass their 38 Guernsey cows eat. They also source sheep and goat's milk from a farm in Stratford-upon-Avon. That milk is then lovingly crafted into their five distinctive cheeses, which we were lucky enough to watch being made when we visited last summer.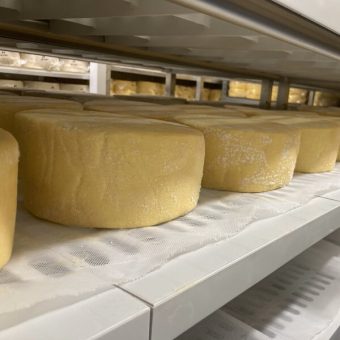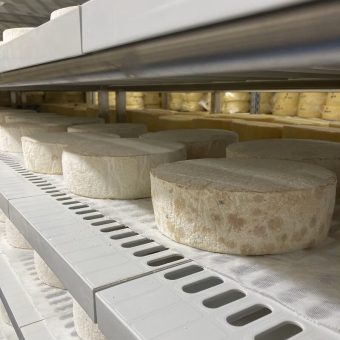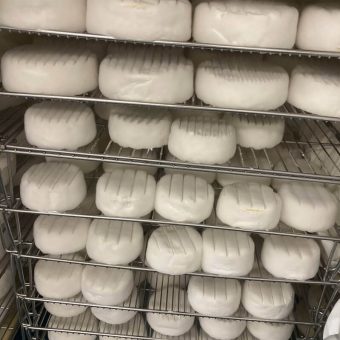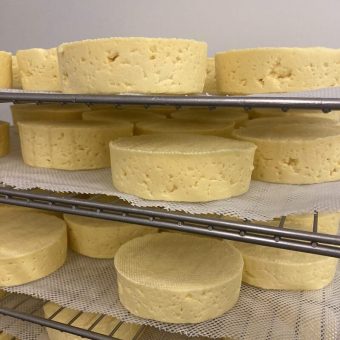 The team showed us the process, from thermising the milk to 65 degrees – just below pasteurisation, through to filling the moulds, and then washing the cheeses in brine. We were also able to watch the cheeses being wrapped by the packing experts which was mesmerising to watch!
The Cheeses
Maida Vale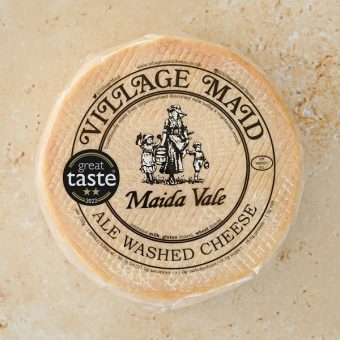 We witnessed for ourselves the 'turning' of Maida Vale – a process that happens once a week for 3 weeks. We also saw its daily wash in Soundwave, a local IPA from Siren Craft Brewery. It helps produce tangy, bittersweet, malty notes on the palate with a buttery soft texture. Siren Craft Brewery, also based in Berkshire, have an ethos of sourcing the best ingredients for the highest quality product. This process of washing and turning is what gives Maida Vale it's distinctive yellow rind. We sell the 350g version.
Wigmore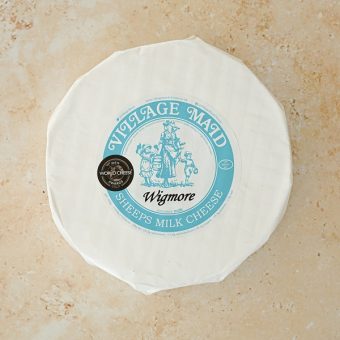 Named as a homage to the family, Wigmore is a ewe's milk cheese with a heavenly soft paste and delicate creamy taste. The curd is gently washed to bring the acidity down and to firm it up for more bite. Beneath the outer coating is  a semi-soft texture that is mellow and smooth, a little like a mushroomy Brie. Wigmore is a multi gold award winning cheese, which is why we sell it, right here.
Spenwood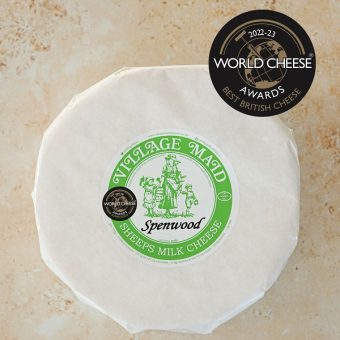 This sheep's milk cheese won Best British Cheese at the 2022 World Cheese Awards. It's a hard-pressed cheese made from unpasteurised ewe's milk with a vegetarian rennet. The cheese is matured for nine months with a thin, natural rind. The cheese has a well-developed, nutty flavour with elements of sweet and savoury and a supple texture. Often compared to Pecorino, Manchego and even Parmigiano Reggiano. When it's matured longer it becomes more piquant, harder and slightly crumbly. It is a brilliant substitute for Parmesan with pasta.
Waterloo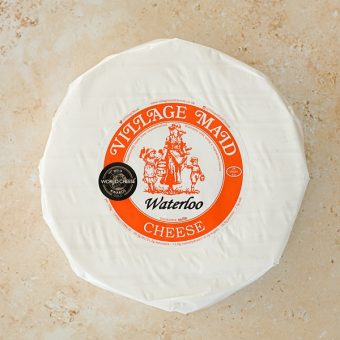 Waterloo is a semi-soft cheese made with a vegetarian rennet. The cheese is washed to make a curd, which dilutes the acidity to achieve a gentle, mellow flavour. Its distinctive yellow colour is due to the natural carotene in the unpasteurised Guernsey milk. It derives its name from it's original source of milk Wellington estate – the Great Duke of Wellington's estate from 1817.
Heckfield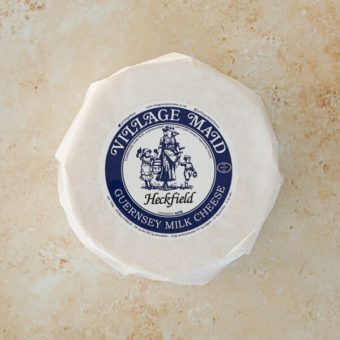 Heckfield is a semi-hard cheese made with vegetarian rennet. It's matured for 8-9 months and takes its name from Heckfield Park Farm, which is the source of the milk. The cheese has a rich umami flavour and a buttery texture that melts in the mouth. It is naturally golden from the carotene present in the Guernsey milk.
We sell 3 Village Maid Cheeses, specifically  Waterloo, Maida Vale and Wigmore, and you may find Spenwood and Heckfield in upcoming Cheese Club boxes soon…