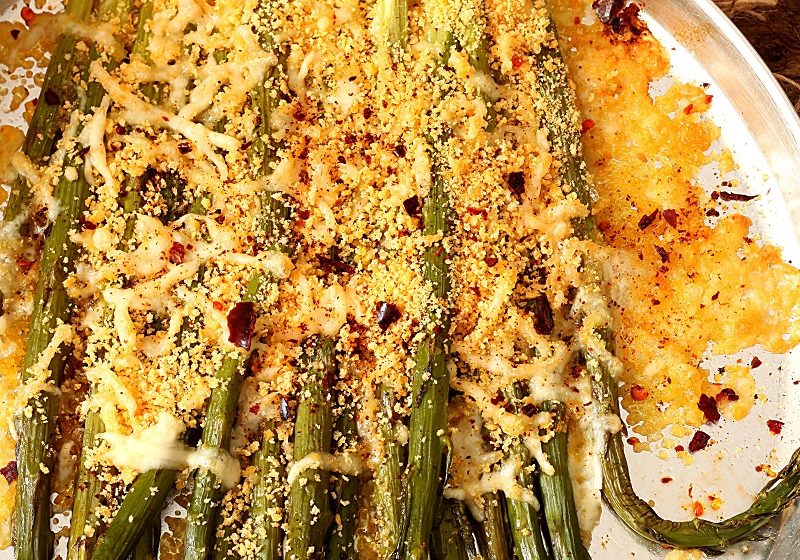 Ingredients
20 asparagus spears, peeled if required, trimmed
50g of butter, plus extra for greasing
50g of flour
450ml of milk
2 egg yolks
1 tsp English mustard
1 dash of Worcestershire sauce
salt to season
black pepper to season
175g of Westcombe cheddar, grated
How to make it
This cheddar topped asparagus recipe from Great British Chef Nathan Outlaw is a simple starter that would also be a great spring side dish. We use Westcombe cheddar because it's just bursting with flavour!
Preheat oven to 200°C/gas mark 6
Blanch the asparagus in a large pan of salted water for one minute, then remove and refresh in ice water.
When the asparagus are cold, drain and place in a buttered ovenproof dish
In a small pan on a medium heat, melt the butter and add the flour.
Cook, stirring for 1-2 minutes until lightly golden. Remove the pan from the heat and gradually whisk in the milk to form a smooth sauce.
Return to the heat, stir and simmer for 2-3 minutes
Remove from the heat and beat in the egg yolks, mustard and Worcestershire sauce.
Season with salt and pepper and pour over the asparagus. Top with the grated Westcombe cheddar.
Place in the oven and cook for 10 minutes until golden brown.
Serve the cheddar topped asparagus immediately.
For some other side dish recipes, try:
These cheese stuffed garlic buns – also using Westcombe Cheddar.
Crispy cauliflower cheese fritters are great as a side dish, and even better with a side of Tracklements Sticky Fig Relish.