Country Garden Chutney and Cheese Scones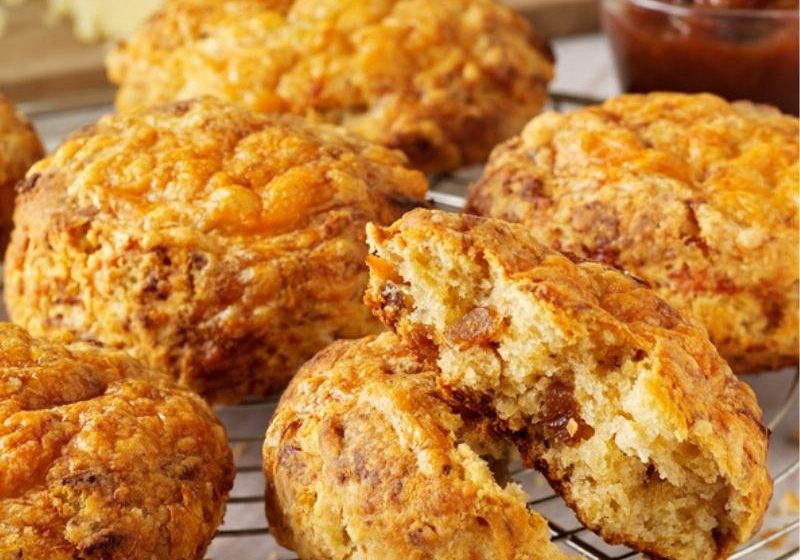 How to make it
These Chutney and Cheese Scones actually combine the chutney and cheese before cooking. They come out crispy and golden with gorgeous chunks of fruit and sweet vegetables in every bite.
Preheat the oven to 220ºC/425ºF/Gas mark 7.
Place the flour, baking powder, wholegrain mustard and salt in a mixing bowl.
Add the butter and rub it into the flour until the mixture looks like breadcrumbs.
Stir in the cheddar and chutney.
Add enough milk to make a soft dough.
Turn out onto a lightly floured work surface and pat out to about 3cm deep.
Using a 6cm pastry cutter cut out about 9 circles.
Place on a baking tray and bake for 10 –12 mins until golden brown and risen.
Serve hot or cold with butter, a more cheddar and more chutney.
Recipe courtesy of Tracklements.
Other scone recipes:
If you make these Berkswell cheese scones small they'll be delicious to eat with soup. The taste of Berkswell is sweet and dryish, very similar to a Pecorino, and if you include the rind you'll get delicious hits of flavour melting into the dough.
Scones are great, but have you ever tried warm cheddar scones, with melted butter? Somerset Cheddar has a tangy mature taste you want from a cheddar but is also creamy and crumbly.