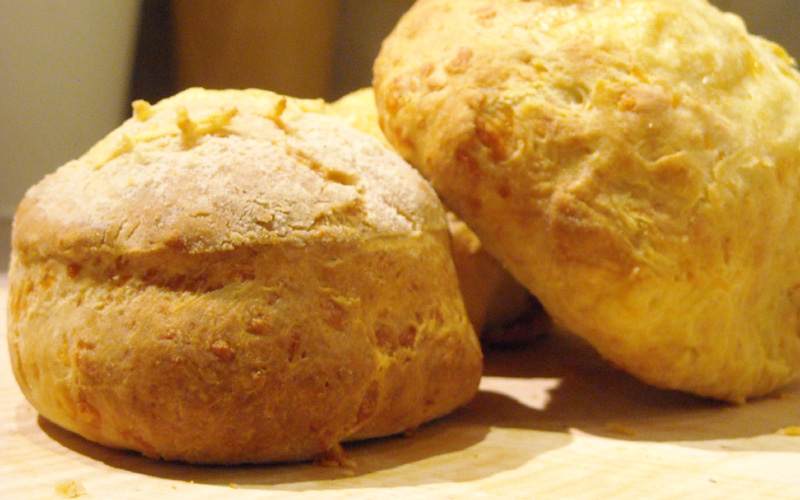 Ingredients
(Serves 4)
2 oz- Butter
8 oz-Self Raising flour
2 tsps-Baking Powder
6 oz-Grated Somerset Cheddar (or other hard cheese)
Half a tea spoon of English mustard powder
1 Egg
Pinch of salt.
Quarter of a pint of milk
How to make it
Scones are great, but have you ever tried warm cheddar scones, with melted butter? Somerset Cheddar has a tangy mature taste you want from a cheddar but is also creamy and crumbly.
Mix the egg and the milk together in a mixing jug or bowl.
Leave to one side then mix the flour, baking powder and mustard powder in a large bowl.
Rub the butter into the dry ingredients.
Add the pinch of salt, adding the grated Somerset Cheddar.
With a table knife, mix the egg/milk into the dry ingredients.
Now get your hands involved by working the mix into a ball-like shape with a doughy consistency.
Sprinkle a little flour on a clean work surface and roll out the mixture until 1 inch thick.
Take a round stainless steal pastry cutting ring about 3 inches in diameter and cut out the scones.
Place them onto a non-stick flat baking tray, sprinkle the remaining 1oz of grated cheese over the cut out scones.
Place the cheddar scones on a baking tray and put into the oven (220C or 200C in a fan oven) for 10 minutes.
Other recipes using Somerset Cheddar
The creamy, tangy and complex flavours of Somerset Organic Cheese come to life in this warming and hearty Cheddar soup. Serve with a hunk of bread of a glass of your favourite cider for a West Country celebration.
This Somerset Cheddar and Blue Rarebit is a lovely dish to serve up as a light snack or as part of afternoon tea.