Somerset Cheddar and Blue Rarebit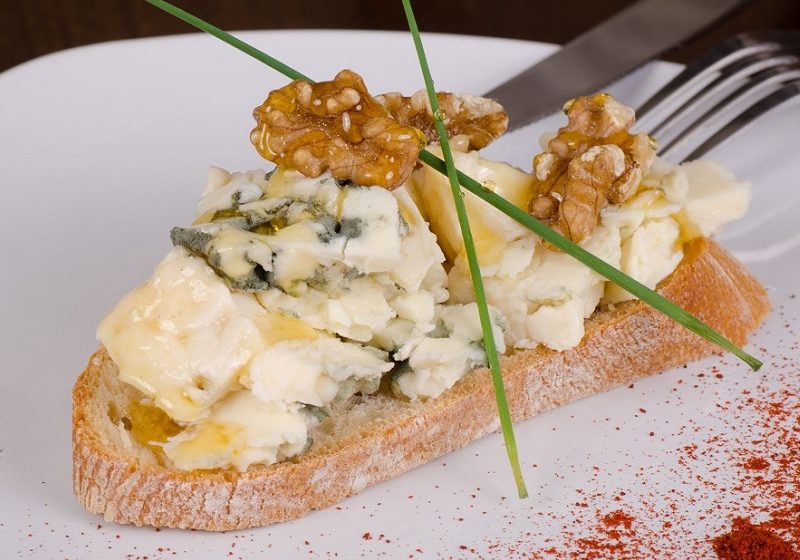 Ingredients
1 x French stick
50g butter
75g Bath Blue
75g Somerset Cheddar
2 eggs
25g walnuts
Salt and pepper
1 tsp English mustard powder
A pinch of mild chilli powder
A handful of chives, chopped
How to make it
This Rarebit recipe comes with a Somerset twist. It uses Somerset Cheddar and Bath Soft, both from the organic farm Bath Soft Cheese and featured in The Bath Organic Selection Box. This is a lovely dish to serve up as a light snack or as part of afternoon tea.
Preheat the oven to 200°C (180°C fan oven) Gas Mark 4. Slice the french stick at a sharp angle into thin rounds. Brush both sides with melted butter and bake for 10-12 mins. Allow to cool a little.
Preheat the grill to high.
Using the first egg, separate the yolk from the white. Mix, season and gently mash with half of the Bath Blue.
With the second egg. separate the yolk from the white. Mix with mustard powder and chilli then gently mash with half of the cheddar chunks.
Using the two mixtures, spread on the toasts. Using the left over cheese chunks and walnuts, sprinkle over the toasts.
Place under the grill until bubbling and golden.
Cool, and serve the Rarebit with a garnish of chives.
Bath Blue can also be found in this Apricot Jam and Bath Blue Cheese Crostini recipe, and in this Cheese Mousse. Click to find out more about Bath Soft Cheese, and what makes their cheese so wonderful.