Stuffed Sourdough Emmental Toastie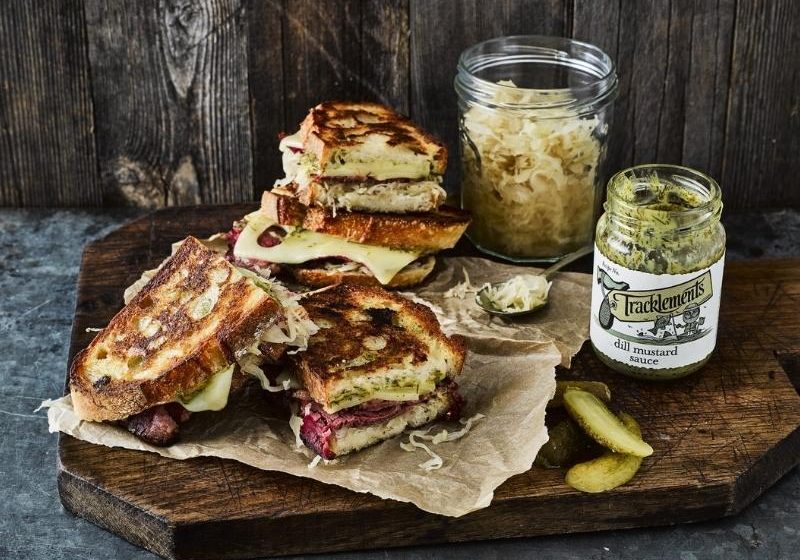 How to make it
Sourdough Emmental toastie stuffed with salt beef, sauerkraut and dill mustard sauce is the sandwich choice of connoisseurs. Eat with a side of gherkins and a twist of the moustache tip.
Spread the Dill Mustard Sauce on one side of one of the slices of sourdough
Add 2 slices of Emmental (we use Raclette slices)
Add the salt beef and the sauerkraut.
Top with another slice of Emmental and the second slice of sourdough.
Heat a frying pan on a medium-high heat and add the butter until it's melted and bubbling.
Cook the sandwich in the butter for 2-3 minutes until golden brown.
Add a little more butter to the pan if needed and cook the sandwich on the other side.
Serve the Emmental toastie with a side of gherkins if desired.
Other sandwich recipes
A classic croque monsieur with the added twist of blue cheese and crusty ciabatta makes for a decadent lunch!
Quesadillas are really easy to make and incredibly delicious. The recipe comes from Mexico so it's only right to use a Spanish cheese and Manchego hits the spot with its nutty and caramel flavours.
Ploughman's is the quintessential British sandwich. It's just the ticket for an on-the-go lunch and is sure to keep you stuffed until dinner.