Quesadillas with chicken, peppers and Manchego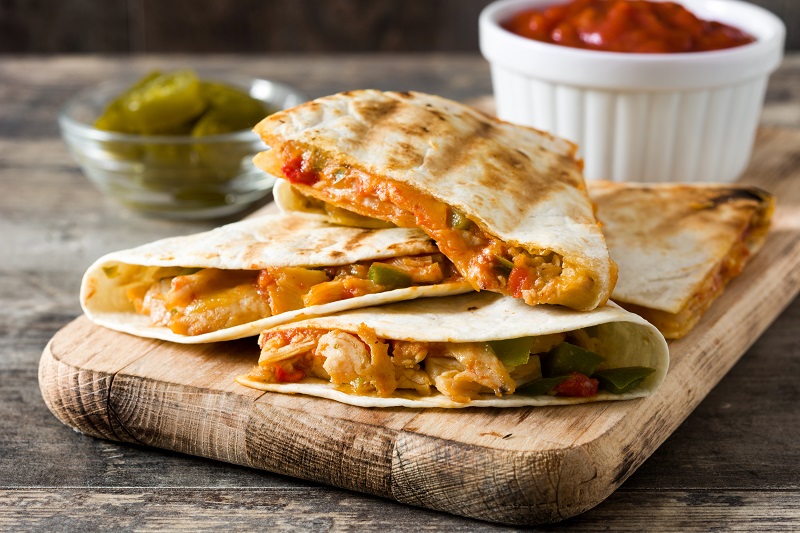 Ingredients
Salsa
2 large flour tortillas
1 large onion
1 pepper
100g chicken
85g Manchego DOC
Mexican Spice Mix:
1 teaspoon chilli powder
1 teaspoon garlic powder
1 teaspoon onion powder
1⁄2 teaspoon crushed red pepper flakes
1⁄2 teaspoon dried oregano
2 teaspoons paprika
1 1⁄2 teaspoons ground cumin
1⁄2 teaspoon sea salt
Coriander (optional)
Oil (for brushing)
How to make it
Quesadillas are really easy to make and incredibly delicious. The recipe comes from Mexico so we've used Manchego DOC which hits the spot with its nutty and caramel flavours.
Heat a tablespoon of oil in a pan
Chop the onion and fry for a few minutes, then add the chicken finely chopped
Add the chopped pepper.
Add the Mexican spice mix
Spread salsa onto each tortilla, then add a spoonful of the chicken and pepper mix on top
Cover with grated Manchego
Scatter with coriander
Sandwich with the other tortilla, then brush the top with oil
Heat a large frying pan then cook the tortilla, oil side down, for about 4 minutes
Turn over onto a plate, then slide back into the pan to cook the other side of the quesadillas for 2 minutes until golden
Serve cut up into wedges
Other recipes:
Manchego DOC is wonderfully nutty with caramel flavour, which is why we recommend using this in your dauphinoise recipe. It's the perfect side dish to roasted meat and steamed green vegetables.
Enchiladas make an excellent mid-week dinner that the whole family can enjoy. This version uses turkey making it a little healthier, and the nutty, buttery and mature Manchego adds wonderful depth of flavour.