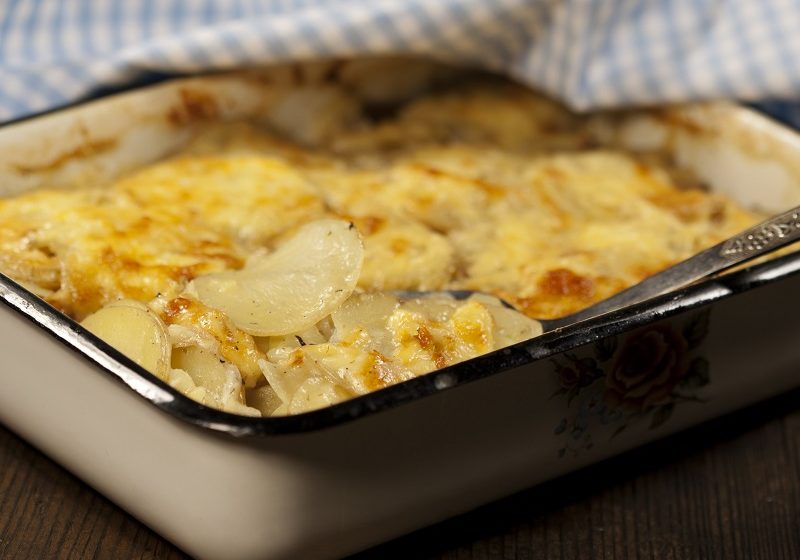 Ingredients
Serves 6-8
1 large garlic clove
500ml full fat milk
salt
pepper
900g potatoes
175g grated Manchego DOC
How to make it
Manchego DOC is wonderfully nutty with caramel flavour, which is why we recommend using this in your dauphinoise recipe. It's the perfect side dish to roasted meat and steamed green vegetables.
Preheat the oven to 180°C/160°C fan/Gas 6.
Using a ceramic or glass baking dish, rub a cut garlic clove all over the sides and base
After a few minutes, grease the dish with butter
Peel the potatoes and slice as thinly as possible
Crush the garlic and add to a saucepan with the milk, salt and pepper, and the sliced potatoes
Simmer until the liquid thickens, then remove from heat
Add half the grated Manchego and let melt
Pour the entire contents into the baking dish, and arrange the potatoes so they are evenly distributed
Sprinkle the remaining Manchego over the dish
Bake the dauphinoise for 45 mins, or until it's golden brown on the top and the potatoes are tender
Other recipes with Manchego:
Enchiladas make an excellent mid-week dinner that the whole family can enjoy. This version uses turkey making it a little healthier, and the nutty, buttery and mature Manchego adds wonderful depth of flavour.
Quesadillas are really easy to make and incredibly delicious. The recipe comes from Mexico so it's only right to use a Spanish cheese and Manchego hits the spot with its nutty and caramel flavours.