Turkey and Manchego Enchiladas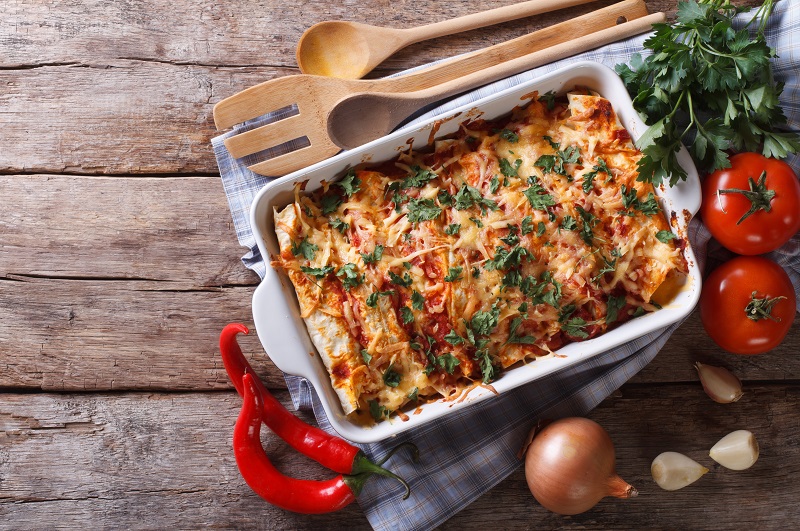 Ingredients
2 small onions, chopped
2 garlic cloves, chopped
400g chopped tomatoes
1 vegetable stock cube
1/2 tsp chilli powder
1 tsp dried oregano
350g turkey mince
8 corn tortillas
200g Manchego cheese, grated
Salt
Vegetable Oil
How to make it
Cheese enchiladas make an excellent mid-week dinner that the whole family can enjoy. This version uses turkey making it a great alternative to beef, and the nutty, buttery and mature Manchego adds wonderful depth of flavour.
Preheat oven to 200°C/ 180°C fan/ gas mark 6
Grease a baking dish with oil
In a frying pan, heat some oil and cook the garlic and onions until browned
Add the turkey mince and cook until browned
Add the chopped tomatoes
Then add a stock cube to 200ml cold water, mix and add
Add the chilli and oregano
With half of the mixture, begin filling tortillas, adding a little cheese to the top of each then rolling and placing in the baking tray
Once all the tortillas are tightly packed in the baking dish, top with the remaining turkey mix then sprinkle the remaining cheese on top
Bake for 15 mins until brown
Serve the cheese enchiladas with a fresh lettuce salad
Manchego Cheese
Through mainland Spain there are almost desert-like fields where herds of white, hornless sheep roam. These are the arid plains of La Mancha, and are home to a number of registered farms that breed Manchega sheep. These farms have the exclusive right to make the cheese Manchego DOC. Read more about the legend of Manchego DOC here.