Ciabatta Croque Monsieur with Perl Las Blue Mini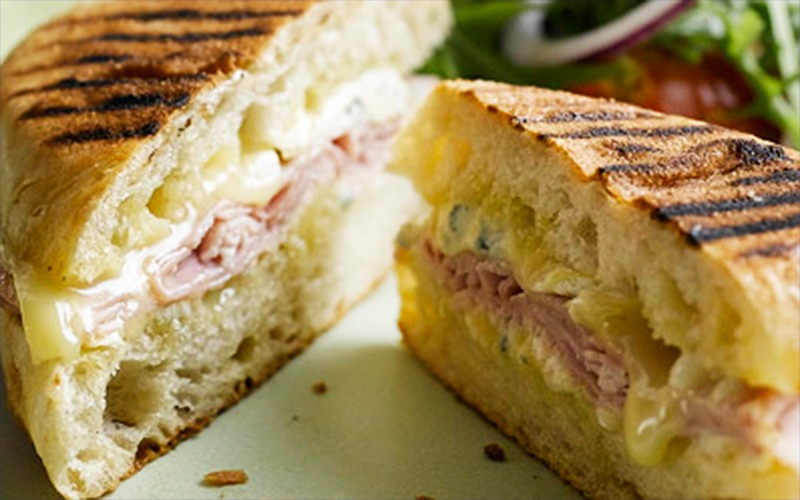 Ingredients
1 small ciabatta split lengthways with the ends removed
3 generous slices of ham
Welsh Perl Las Blue Mini, sliced
Olive oil for brushing
How to make it
A classic croque monsieur with the added twist of blue cheese and crusty ciabatta makes for a decadent lunch!
Pre heat a griddle pan. On one piece of ciabatta, sandwich the ham between layers of sliced blue cheese and top with the other piece of ciabatta. Press down slightly. Brush the ciabatta with the olive oil. Place in the heated griddle pan and cook the sandwich on both sides until the cheese has melted and the bread is golden brown.
Cut in half.
Serve the croque monsieur with a salad garnish.
Recipe courtesy of www.simonweaver.net
Other recipes
This Red Onion Tart has the winning combination of sweet red onions, salty Perl Las Blue and nutty, crunchy walnuts, wrapped in buttery puff pastry.
Steak with blue cheese is a classic flavour combination used by chefs and in recipes the world over. It's actually quite simple to make, try using Perl Las Blue for a strong, lingering flavour.
Hot cheese sauce served over slices of toasted bread, what's not to like with Welsh Rarebit? Celtic Promise offers a rich full flavour to boot.
This Leek and Perl Las Quiche celebrates the flavours of Wales all in one, moreish bite. The hazelnut pastry adds a new dimension to the flavour. Serve with cider!