Cheese and Perfect Ploughman's Pickle Sandwich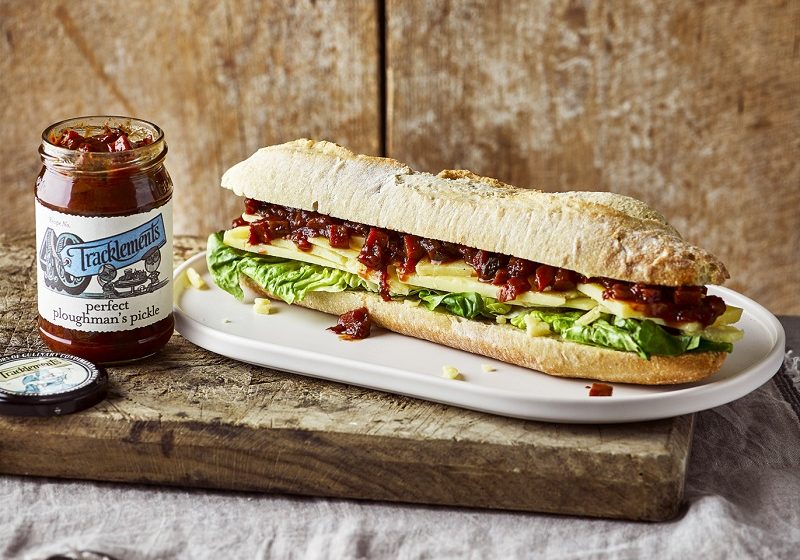 How to make it
Ploughman's is the quintessential British sandwich. It's just the ticket for an on-the-go lunch and is sure to keep you stuffed until dinner.
Other Tracklements Recipes
This goats' cheese tart with Sticky Fig Relish is full of flavour, simple to make and will take your picnic fare from ordinary to extraordinary!
Bittersweet black treacle cured ham paired with creamy and crumbly Somerset Organic Cheddar makes this Mac n Cheese recipe a cut above the rest. Smooth Dijon Mustard adds tangy and spicy flavour to every bite.
This creamy vintage cheddar, ham and pea risotto enjoys flavours from three cheeses. Tangy and sharp from the cheddar, nutty and salty from the parmesan and sweet, creamy flavours from the mascarpone. Ideal for a mid-week dinner with a rocket salad or some steamed greens.
Valley Brie Tartlets combine a silky soft and lemony cheese with bright and fruity Cranberry sauce that tingles on your tongue.
This Goats' Cheese Lasagne is an interesting vegetarian twist on the traditional lasagne using sweet, caramelised onion marmalade for full-bodied flavour.
A history of Ploughman's
You'd be forgiven for thinking a Ploughman's Lunch is hundred's of years old, but according to agreement from various sources including the BBC, the phrase 'Ploughman's Lunch' was first promoted by the Milk Marketing Board in the 1960s. It was part of a campaign to promote the sales of cheese, especially in pubs. Here's a history of the Ploughman's Lunch.