Goats' Cheese Lasagne with Caramelised Onion Marmalade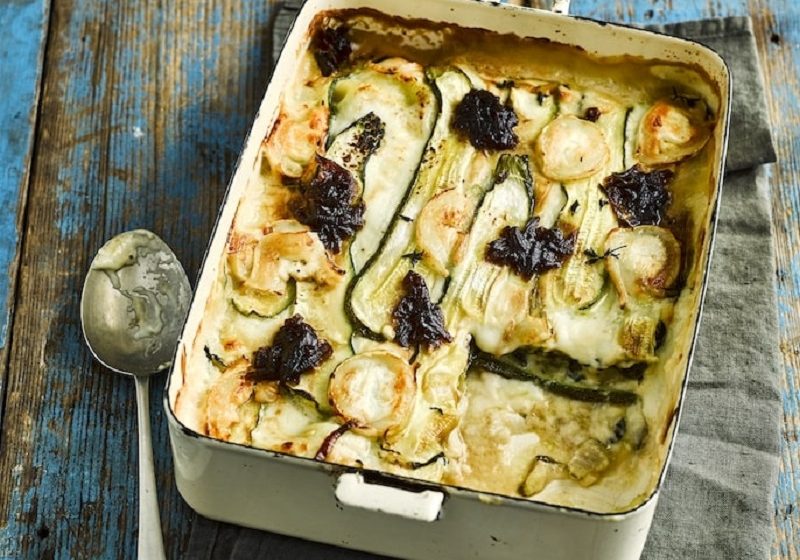 Ingredients
50g butter
50g plain four
750ml whole milk
¼ tsp freshly grated nutmeg
100g grated parmesan
salt and pepper
1 tbsp olive oil
1 clove garlic minced
250g Swiss chard roughly chopped leaves and stems
125g of fresh lasagne sheets
3 courgettes, thinly sliced lengthways
150g goats' cheese, thinly sliced
250g Tracklements Caramelised Onion Marmalade
Handful of toasted, chopped walnuts
How to make it
This Goats' Cheese Lasagne is an interesting vegetarian twist on the traditional lasagne using sweet, caramelised onion marmalade for full-bodied flavour.
Preheat the oven to 200°C/400°F
Melt the butter in a medium sized saucepan over a moderate heat, stir in the flour and cook out for 1 min
Gradually add in the milk whisking continuously until fully incorporated, cook for around 5 mins until smooth and thickened
Grate in the nutmeg, parmesan and season to taste with salt and pepper
Drizzle the olive oil in a medium sized frying pan over a moderate heat
Add in the garlic and cook for 30 seconds before adding in the chard and a generous pinch of salt
Sauté the chard for 2-3 mins until wilted down
Cook the lasagne sheets in plenty of salted hot water as per packet instructions, drain and put to one side
Pour a third of the béchamel sauce to the base of a medium sized baking dish
Top with a third of the sliced courgette, goats' cheese and ½ of the chard
Add a third of the Caramelised Onion Marmalade, dotting it around with a teaspoon, top with a layer of lasagne sheets
Repeat the layering as before using up the remaining chard
Top the lasagne with the remaining béchamel, goats' cheese, Caramelised Onion Marmalade and sliced courgette
Sprinkle over the walnuts
Bake the Goats' Cheese Lasagne in the oven for 45 mins or until golden brown and bubbling
Other Tracklements Recipes
A goats' cheese tart with Sticky Fig Relish – full of flavour, simple to make and will take your picnic fare from ordinary to extraordinary!
Bittersweet black treacle cured ham paired with creamy and crumbly Somerset Organic Cheddar makes this Mac n Cheese recipe a cut above the rest. Smooth Dijon Mustard adds tangy and spicy flavour to every bite.
A creamy vintage cheddar, ham and pea risotto that enjoys flavours from three cheeses: tangy and sharp from the cheddar, nutty and salty from the parmesan and sweet, creamy flavours from the mascarpone. Ideal for a mid-week dinner with a rocket salad or some steamed greens.