Comté cheese, leek and mustard fritters with hot chilli jam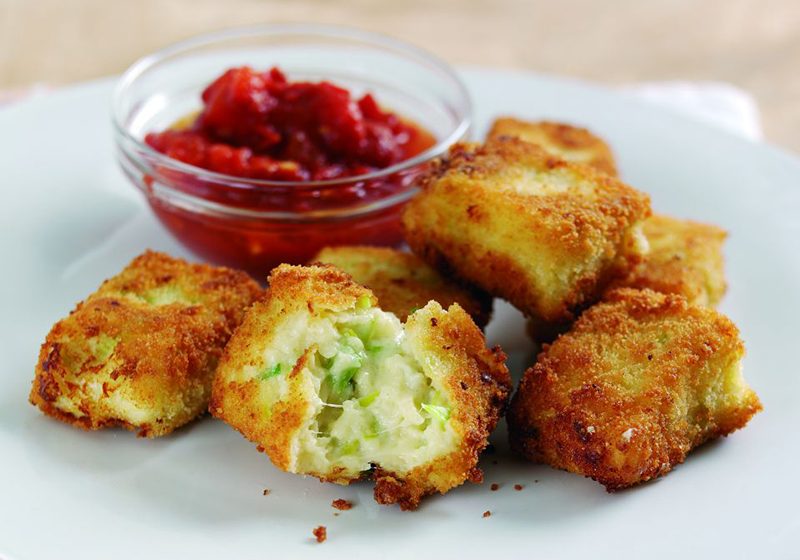 Ingredients
For the Fritters:
60g of butter, plus a little extra
60g plain flour
570ml milk1 small leek, shredded finely
120g strong Comté cheese, grated (Buy French Cheese)
1 tsp Dijon mustard
1 tbsp herb and honey mustard
4 eggs beaten
Breadcrumbs
Oil for frying – vegetable is best
For the Tomato Chilli Jam:
1 clove of garlic, chopped
1 small hot chilli pepper, chopped
1 tbsp tomato paste
Pinch of sugar
A splash of balsamic vinegar
8 fresh tomatoes (large and ripe)
How to make it
Gareth Johns is the Head Chef and Proprietor at the Wynnstay Hotel in Machynlleth, Wales, and the regional winner for Wales in the Vive le Cheese competition. Gareth's Comté leek and mustard fritters impressed the judges with a great pairing of the Comté.
Method for the fritters:
Make a thick white sauce by melting the butter, sweating the leek, adding the flour and cooking it to make a roux before gradually stirring in the milk until you have the desired consistency.
Stir in all the grated cheese and both mustards. Season well. Spread the sauce in a thick layer, about an inch thick onto a sheet of non-stick paper and chill for at least one hour. When set, cut into squares (or fingers)and coat in flour, egg and breadcrumbs. Deep fry in hot vegetable oil until golden brown (which should take about 3-4 minutes).
Method for the tomato chilli jam:
Sweat the garlic in a little vegetable oil, then add the chilli, tomato paste, sugar and vinegar and cook for about a minute.
Add the skinned, chopped and de-seeded tomatoes, season with salt and pepper and cook until thick, adding a little more sugar and vegetable stock or water as necessary.
By Gareth Johns : Regional winner for Vive le Cheese competition in Wales.